'Ted Lasso' Sets Season 3 Premiere for Spring — See Ted & Nate Face Off (PHOTO)
One of TV's best feel-good shows will be back before you know it.
Apple TV+ has announced that Ted Lasso will return for its third season in spring 2023. Also revealed at the 2023 Winter Television Critics Association press tour was a first-look image that provides a glimpse at what's in store for AFC Richmond, with Ted (Jason Sudeikis) and Nate (Nick Mohammed) facing off.
Ted Lasso Season 2 saw Nate betray Ted and the team, working for the enemy at the end. It's a "villain origin story" that Mohammed knew about before Seasons 2 or 3 had been picked up, he told TV Insider. "Because the fall from grace is even greater, we feel like, f**k, now he's just betrayed all of us and allowed all the toxic energy within him to come to the top," he shared.
"Without a decent support network, he's feeling alienated and abandoned by Ted. And Ted sort of fulfilled that role of a father figure in Season 1," he added. "Ted isn't really there in that kind of way in Season 2 because he's dealing with his own issues. And as a result, Nate just feels completely abandoned. He's never had that position of power or responsibility before. So he just starts to act inappropriately, and there's no one there keeping him in check. That combined with the social media thing as well, he's self-obsessed with how he's presented, and all these things are paranoia driving him mad really."
In addition to Sudeikis as the titular American football coach hired to manage a British soccer team despite having no experience and Mohammed, the Apple Original comedy also stars Hannah Waddingham, Brendan Hunt, Jeremy Swift, Juno Temple, Brett Goldstein, Phil Dunster, and Sarah Niles.
Ted Lasso won the Emmy for Best Comedy for its second season, making it only one of seven other comedies to win that category back-to-back for its freshman and sophomore runs. It was also the most Emmy-winning comedy for the second year in a row, taking home four awards, including Outstanding Comedy Series, Outstanding Lead Actor in a Comedy Series (Sudeikis), Outstanding Supporting Actor in a Comedy Series (Goldstein), and Outstanding Directing for a Comedy Series (MJ Delaney).
Sudeikis also executive produces, alongside Bill Lawrence via his Doozer Productions, in association with Warner Bros. Television and Universal Television, a division of NBCUniversal Content. Hunt, Joe Kelly, and Bill Wrubel also serve as executive producers, along with Doozer's Jeff Ingold and Liza Katzer. Jane Becker and Jamie Lee also serve as executive producers. Goldstein serves as writer and co-executive producer. The series was developed by Sudeikis, Lawrence, Kelly, and Hunt and is based on the pre-existing format and characters from NBC Sports.
Ted Lasso, Season 3 Premiere, Spring 2023, Apple TV+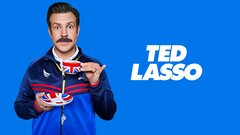 Powered by