Al Roker Makes Emotional 'Today' Show Return & Provides Health Update (VIDEO)
All is right again on NBC's Today show as beloved weather anchor Al Roker returned in-studio on Friday, January 6, for the first time since November.
Roker has been battling health issues since mid-November, when he was hospitalized with blood clots in his leg and lungs. He has been in and out of the hospital since then, forcing him to take a break from the Today show, including missing the Macy's Thanksgiving Day Parade for the first time in 27 years.
But now the long-time weather forecaster is back, and it was an emotional return on Friday morning. "I'm sorry, but the tears are already flowing," said Today co-anchor Savannah Guthrie. "Al, to say we have missed you doesn't even begin to describe it. It is nothing without you here."
The countdown is finally over. Al is back in studio with us for the first time in more than two months! 😭❤️ pic.twitter.com/rvPbuxCcEf

— TODAY (@TODAYshow) January 6, 2023
Hoda Kotb was equally tearful, stating, "The crew is weepy, the crowd outside has been waiting for you… They've been bugged every day we've walked out there. They're like, 'Where is Al?'"
Roker told his colleagues that he missed them too, saying, "You are my second family, and it's just great to be back," before joking, "and wearing pants."
It's been a warm welcome back from the moment Al arrived to studio 1A! pic.twitter.com/bm7SxsfZHJ

— TODAY (@TODAYshow) January 6, 2023
"My heart is just bursting. I'm so thrilled to see all of you and all the crew and everybody. Right now, I'm running on adrenaline," he continued as he sat beside his wife, Deborah Roberts, who described the situation with her husband as "scary."
"[Deborah] is the main reason I am still here," Roker added as he thanked his wife and family for their support over the past couple of months.
Check out the videos below to see Roker's return to the Today show.
"The doctors saved your life, but I think Deborah Roberts also saved your life." pic.twitter.com/DlTnBTLtas

— TODAY (@TODAYshow) January 6, 2023
"The amount of good will toward you, I will never, ever, ever forget." pic.twitter.com/zCncxEGosd

— TODAY (@TODAYshow) January 6, 2023
Today, Week mornings, 7/6 c, NBC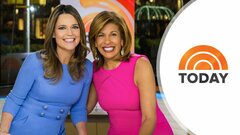 Today
where to stream
Powered by