Queen Latifah Is Industry Royalty With Gritty Turn On 'Star'
She packs a gun and a Bible. Who can resist a role like that? Queen Latifah heads up the new Fox musical drama Star as Miss Carlotta, the no-baloney owner of an Atlanta beauty parlor—think Steel Magnolias in the 'hood—who is also a surrogate mom to three hot-to-trot girl singers. "Latifah brings a soothing, elegant presence to the emotional chaos that is Star," says creator Lee Daniels (Empire). "She is pure class—even when I put her in a tacky, bright red, cheap-ass $10 wig!" So what brings the Queen back to TV in her first series-regular gig in nearly 20 years? It's not the flash and the trash. She's here to get real.
You've seemingly done everything in showbiz, but Star is your first drama series. Was it a bucket-list sort of thing? Check! Lee Daniels and I have been wanting to do this show for years. We'd talk every five or six months as his idea for Star was morphing, and things really fell into place when Empire became such a smash hit. I just love getting into Lee's wild brain and taking the ride. And I love being back on Fox, where my TV career started. I feel like I helped build this network into what it is with the success of Living Single. [Laughs] Hey, they gotta keep us in the building because, me and Lee, we're kinda sexy!
RELATED: Queen Latifah Says She Wants to Bring Back Living Single
What turns you on about Carlotta? This is all my acting dreams come true. She's rough, she's hard, but she has a big heart. I know this woman. She's so much like my aunts, my cousins and many of my friends. We need to see this person on TV because she's out there in society pretty much ignored. She loves Jesus. She loves singing in church. And she's got a great bulls–t meter.
She's also the polar opposite of Cookie Lyon on Empire. Cookie hit the pot o' gold, but Carlotta lives a life of dashed dreams. She could have had a great singing career but did herself in by gaining weight and being unprofessional. Does she regret it? Boy, does she. She's made big mistakes and is in big need of redemption. Carlotta has skeletons in her closet and a few bodies buried, but she's doing her best to forget them. She can't escape her past, but she's trying to build a better future.
In addition to her three wards—Star (Jude Demorest), Simone (Brittany O'Grady) and Alexandra (Ryan Destiny)—who are always flirting with disaster, Carlotta has a transgender daughter, Cotton (Amiyah Scott), who causes her great worry. How are you sparking to all this mom stuff? I'm very comfortable playing a mom, though I've never raised a child myself. But I know what it's like to be a kid, and I sure know the positive impact a mother can have. Carlotta is not going to stop loving Cotton just because she chooses to live a certain way. The transgender life is so much more than a bathroom law in North Carolina. There are disagreements and conflicts and real conversations happening between kids and parents, and we need to portray that on TV. That's another reason I'm doing this series—because Lee Daniels has the balls to explore contentious topics.
Do the young ones on the show ask you for advice? They're all too cocky to know what a wealth of knowledge is standing right next to 'em! [Laughs] No, I may play a mama, but I'm not here to look over anyone's shoulder. When I was their age, I hated people telling me what to do! If anything, I lead by example. They can watch me and see how a woman in this business uses her power when she needs to—in the right ways.
Speaking of power, your version of "Satisfied" with Sia on The Hamilton Mixtape is crazy good! I still can't believe Lin-Manuel Miranda asked me to do it. When the call came through I was like, "Whaaat?"
But you're the queen of rap. You were a pioneer! You don't understand. It's a whole new world with Hamilton. Lin is such a dope writer, there's no rapper who wouldn't want do his rhymes. And to get young people all excited about American history like Lin has is unbelievably fantastic. So, yeah, you damn well bet I'm honored to be a small part of that. He brought us a miracle.
Star, Wednesdays, 9/8c, Fox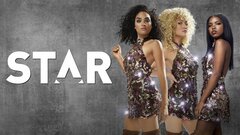 Star
where to stream
Powered by