'Bones' Reveals Puppeteer Murderer in Final Season Premiere
Warning: This post contains major spoilers for the Bones season premiere. Do not read ahead unless you've watched the hour.
After more than eight years, Bones finally cleared Zack's (Eric Millegan) name.
Though Zack worried he may unknowingly have been responsible for the Puppeteer murders—and Brennan (Emily Deschanel) agreed with him that the evidence was conclusive he was guilty—Booth's (David Boreanaz) gut told him there was more to the story. The squints at the Jeffersonian were able to put the final pieces together: the killer was Zack's doctor, Dr. Roshan (Ravi Kapoor). The doctor attacked Zack, intending on getting rid of his loose end, but Booth arrived and killed Dr. Roshan before he could do serious harm.
RELATED: Bones Boss Previews the Final Season's Resolution and Reveals Returning Favorites
Clearing his name for these crimes also allowed Zack to reveal a long-awaited truth: he never killed anyone while assisting serial killer Gormogon. (Previously, only Sweets knew that truth; that secret died with him.) Brennan was skeptical, but Booth said they believed him and would help him out.
"It was very important to me—and I think talking with [Bones creator] Hart [Hanson]—at the end of the day to make sure everyone knew he was innocent," executive producer Michael Peterson explains. "It was one of those things that had been hanging for a while. We love Zack; he is fantastic. He is one of the key reasons I first started watching the show before I was a writer on the show, back when I was just a fan. So, it was a big thing to do at the end of Season 11."
But while the intention was always to clear the air about Zack's real involvement with Gormogon, the writers didn't immediately dismiss making him a part of this serial killer arc. "When we did the cliffhanger at the end [of the season], I kind of knew where we were going," Peterson says. "But we were hanging on to the idea of, 'Maybe he is a killer. Maybe he will be a Big Bad.' But, really, talking it over with [writer] Karine [Rosenthal], Hart, [and co-showrunner] Jon [Collier], we wanted it to be this resolution and have fun with it. What is more true to Zack's character and the kind of emotion of the show is to resolve it."
RELATED: The Bones Cast, Producers Reflect on Starting the Final Season
The roller coaster Zack went on to arrive at this place was a vital one for the writers. "He was someone who didn't have a place where he fit in before he went to prison," Peterson says. "He recognized that he was vulnerable to manipulation. I think he did have to go through a journey to come out the other side safer and a better human being…And by the end of Season 12, we realize that Zack is in a better place that will give comfort to a lot of fans."
The conclusion of the Puppeteer arc also marks an important end for Bones: Roshan was the show's final serial killer. "The person who comes back from Booth's past, I would not label as a serial killer," Peterson says. "Certainly, he will have victims—multiple victims, impactful victims of our cast. But I would not label him as a serial killer."
RELATED: Bones' TJ Thyne on Hodgins' Life-Changing Twist
Zack wasn't the only character who had a life-changing episode. After a brief bout of feelings in his legs—thanks to a solution Zack quietly cooked up by posing as a doctor online—Hodgins (TJ Thyne) acknowledged the sensation was temporary and he would have to stay in his chair.
"When we first did [the storyline], my initial reaction was I did want to keep him in the chair," Peterson says. "It seemed like the right thing to do; it's respectful for people who are dealing with actual [disabilities]. Bones is not reality, but we do get to reflect on what is actually happening in the world. There are brave men and women who deal with this. It just seemed respectful to keep him in the chair, ultimately, and say, 'You know what? He's going to have a great life anyway. He's going to go through a journey, but he's going to get to the other side.'"
"There was talk at one point about maybe resolving it [in a different way]," he continues. "We went to a place where it seemed like it was possible. But at the end of the day, we wanted to be more reflective of reality. I think it's a better show for doing so."
Bones, Tuesdays, 9/8c, Fox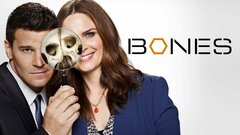 Bones
where to stream
Powered by