'Bones' Boss Previews the Final Season's Resolution and Reveals Returning Favorites
When Bones showrunners Michael Peterson and Jonathan Collier plotted a final season for the long-running crime procedural, their goal was clear: "Resolve key issues for Booth and Brennan," Peterson says.
First up: A mysterious figure from Booth's (David Boreanaz) past returns. "It's someone who was referenced in Season 1, from his time as a sniper," Peterson teases. "It takes an emotional toll on Brennan [Emily Deschanel] as well. If something your spouse did before you even knew them comes back and there's horrible reverberations, something shifts."
Another complication? Brennan's former boyfriend, Sully (Eddie McClintock), who resurfaces "during a very vulnerable time," Peterson says, calling the episode a tearjerker. "It's a beautiful resolution, but it'll be stressful for the fans to see Brennan's past love showing up."
As the married couple works through their latest hurdle, there will be plenty of cases to solve: The premiere—directed by Deschanel—wraps up the Puppeteer storyline; later investigations will take the team to a retirement home, a demolition derby, a lumberjack competition and the world of low-budget genre films. Plus, former Bones guest stars, including Stephen Fry, Betty White and Cyndi Lauper, will return.
TV Insider spoke with Peterson, who previewed what else fans can expect in the emotional last year of Bones.
When the writers sat down to craft the final season, what was your biggest priority?
Last year, we went to talk to Fox and we made our pitch to get a final season. It really came down to character. Jon and I, in Season 11, we were watching a lot of old episodes. It was actually something David told us to do: go back and rewatch episodes from Seasons 1 and 2, and go back and watch the character dynamics and get some of that magic back. We realized there were a couple of storylines that were specific to Booth and Brennan that we didn't think were resolved yet. So we pitched to Fox what we wanted to do to resolve those storylines, and because it had to do with characters, because it had to do with our leads, they said absolutely and that's how we ended up with Season 12…[the goal is to] resolve some key issues for Booth and Brennan.
RELATED: Bones Season Premiere Preview: Zack Reveals His Plan to Booth and Brennan (VIDEO)
How did it change your mindset, even in the earlier episodes, knowing you only had these 12 hours left?
It changed it hugely. For Jon and myself, I've been here since Season 4, he's been here since Season 7. We love, love, love working here. We would love to stay here until Season 20. When we were handed the keys and said, "What do you want to do?" the last thing we wanted to do was business as usual. We really wanted to put everybody through the wringer. Obviously what happened to Hodgins [with his paralysis], the new relationship for Cam [before she reunited with Arastoo], there was a lot of stuff between Booth and Brennan, the new serial killer, what happened with Zack. We wanted to amp up things as much as possible and put people in precarious situations.
This season, when we knew it was going to end, it does weigh on you. For me, it's what's respectful and true. It's not so much about pushing everybody to the limits, but about being truthful. As far as that goes, we're not going to see anybody go through what Hodgins went through [last season] when it was almost an identity shift—he became a different person after his accident. We are going to keeping moving these people forward. I think we were very careful not to do twists and turns for the sake of doing twists and turns, but it all came from the characters.
RELATED: Bones: The Hunt for Brennan's Kidnapper is On
The first batch of episodes acknowledges the show's past, in big ways and small. What discussions were there in the writers' room about what fans may or may not remember? And was anything cut that you felt was too deep of a dive?
You want to make it so it works for everybody. The great Pixar movies work for the adults and the children…there are jokes that go over the kids' heads, but it all works out in the balance. We're trying to do something that, like, there are those references that only the die-hard fans are going to know, and for everybody else, it's just good storytelling. Things like the resolution of what does 447 mean? Well, that's not for everybody. That's for a handful of amazing, diehard fans. But that's still important to us. There will be references to things from multiple seasons, but we hope the storylines will work for everybody.
Is the 447 reveal still in Episode 11?
It's in 11 and 12. 11 and 12 are really a two-parter.
With so many characters—regular and recurring—to content with, how did you handle the goodbyes/final arcs? Were they staggered or did they mostly fall in the final couple of episodes?
We did both. We staggered a bunch of it, but at the end of the day, we also wanted 11 and 12 to be a giant party and have all of our favorite people there. It's not quite a cast of thousands for 11 and 12, but we're pretty darn close. We're going to be seeing a lot of our favorite faces in these episodes. It only seemed fitting. We tried to say little goodbyes along the way so it wasn't too jam-packed; it felt like it was a Lord of the Rings movie where they kept saying goodbye a million times over. I can't do that. We think we figured out a way to balance it.
It's hugely emotional. It's saying goodbye to a lot of people. In hindsight, I haven't been able to say goodbye to anybody: I keep saying, "We'll work again together." That's the only way it feels right. With 24 having their reboot, or Prison Break or X-Files, we all know it's possible. Who knows?
It sounds like you're kidding, but has there even been vague discussions about keeping the universe alive, even with the squinterns? Carla Gallo's Daisy just popped up on Rosewood…
If they have, they have not had those discussions with me. I think right now, we're concentrating on this being the best finale possible. I try not to worry about things I have no control over. If I got a call, I would pick up the phone very quickly.
Looking to the final season, what kind of cases will the team be taking on?
Well, there's a lot of cases. The big arc that's going to start in this season starts in Episode 4. Somebody from Booth's past—someone who was referenced in Season 1, from his time as a sniper and it comes back to haunt him in a very big way. It takes an emotional toll on Brennan as well. If something your spouse did before you even knew them comes back and there's horrible reverberations, something shifts. And it's going to affect Brennan in a way that's going to shake her to the core. By the end of the season, she's going to be questioning who she is. When we came up with the storyline, it was about our characters and how they identify themselves. And to put them through this last crucible and have them come out the other side.
One that David had been wanting to do for forever, we finally found a way to do it: he wanted to do demolition derby. That's our undercover episode for the year. It's completely and utterly insane. That's going to be Episode 9. We had great fun with that one.
RELATED: The Bones Cast, Producers Reflect on Starting the Final Season
Another one—which I just watched the cut for—which is wonderful is Episode 10. It's in the world of low-budget movies in the world of Sharknado. The episode is called "The Radioactive Panthers in the Party." It is absolutely nuts and delightfully wonderful. We have David Faustino who is guest starring, and he's hysterical. That's also the episode with Betty White['s] return—so we have Betty White and radioactive panthers. I can't say we've been pitching it for years, but once it was pitched, we're like, we have to do that one.
In Episode 3, the old age home, that was one we've been playing around with forever. For a while, it was going to be an undercover episode where David and Emily were going to go undercover as seniors. But it was so much fun: To have a final season where you could have Hal Holbrook, June Squibb and Ed Asner in the same episode—why wouldn't you?
Having Stephen Fry come back, that was delightful. He's in Episode 9; he's not in the demolition derby. Lumberjacks…competitive lumberjacking, that's Episode 5. Those are a few of the bigger universes we had fun with.
Sully also returns this season. How does he play into the series this time around?
What's interesting about that one is how it relates to the larger arc we're doing, where Booth and Brennan's relationship is tested a little bit because of what happened in Booth's past. Eddie comes in during a very vulnerable time in Brennan's life. It's an odd time for him to show up, it puts a little more strain on them. It's a beautiful resolution, but it'll be stressful for the fans to see Brennan's past love showing up at that key moment he does.
One of the things that made the episode so great is that Karine Rosenthal, who was with the show from the very beginning and took a little break of a couple of years until we were able to lure her back. We wanted people from the very beginning to be here to say if we do anything that is untrue for these characters, your job is to smack us in the face. Karine has always been one of the keys to the heart of the show; she taught me how to do this show in my early years. So she wrote that episode. It's a tearjerker. It's one that will have you reaching for the Kleenex. It's great, because she also came in and helped in writing the [series] finale and really helping us to make sure the emotion.
Is there anything you can preview about the finale, "The End in the End," this far out?
We don't go out with a whimper. [Laughs] It is a deserving ending; it is a big ending to the show. But more than just in terms of scale, it's emotional. There's a huge resolution. It's going to be just emotionally taut. You will be worried for your characters. But I think it will be resolved in a way that's respectful. I do compare the show to a roller coaster: you do go through ups and downs, but you'll land safely on the other end.
Is there anything else you can tease about the final season?
This is for the fans. We're trying to do something that is such a gift to be able to give them these final 12 episodes to hopefully reflect the fans' wishes; in a way that they may be not expecting. But we're just so grateful to have been on as long as we have been.
Bones, Tuesday, Jan. 3, 9/8c, Fox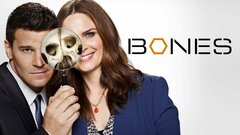 Bones
where to stream
Powered by