'Bones' Season Premiere: Is Zack The Puppeteer Serial Killer? (VIDEO)
Bones fans were thrown for a loop at the end of Season 11 when the team's investigation into the manipulative serial killer, The Puppeteer, led them to conclude former Jeffersonian employee Zack (Eric Millegan) was the elusive mastermind.
Things became increasingly complicated when it appeared Zack—who has spent the past eight years in an institution, thanks to his presumed role in the Gormogon killing spree—kidnapped Brennan (Emily Deschanel), telling her they needed to talk.
RELATED: Bones: The Hunt for Brennan's Kidnapper is On in the Show's Final Season
The 12th season premiere (directed by Deschanel) picks up immediately where the July finale left off, as Booth (David Boreanaz) is desperating trying to save his wife.
In the exclusive clip below, Booth figures out where Zack and Brennan are—thanks to help from Hodgins (TJ Thyne) and Wendell (Michael Grant Terry)—and the trio have a very intense discussion about what Zack had planned.
Bones, Season Premiere, Tuesday, January 3, 9/8c, Fox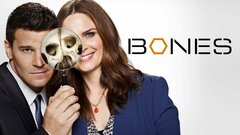 Bones
where to stream
Powered by