The 'Bones' Cast, Producers Reflect on Starting the Final Season
Bones is nearing its end.
The long-running Fox drama is currently in production on its 12-episode final season, and the cast and producers are gearing up for their farewells.
Series stars David Boreanaz (Booth), Michaela Conlin (Angela), Tamara Taylor (Cam), TJ Thyne (Hodgins), and executive producers Michael Peterson and Jonathan Collier shared their thoughts on the beginning of the end.
David Boreanaz: My mentality has always been the same since we started the pilot. You show up, you do a scene, and you work on the moments and the relationship. I've always maintained you have to be consistent with the character work, consistent with the moments and go back to them. That's how we started the show, that's how the show will end. So from my perspective, you have to let them unfold, like any other season. If it's a pilot or you're blessed to have one season, two seasons—you just have to keep going. There's always an end to that sort of cycle. You have to let them unfold.
RELATED: Bones Boss on the Season 11 Finale's Shocking Return
Michaela Conlin: I think when I saw the art for Comic-Con, the "nearly departed" and "final season," that was when it hit me. I hadn't seen it in print yet, or digested it, emotionally. Right now, I think we're all excited to honor the show, with all the work we've done, that we'll get the chance to do that. I think, as an actor, that's pretty special.
Tamara Taylor: It's amazing, because I couldn't have asked for a more perfect way to end it. As you know, in TV, sometimes it's just done, and you don't get a chance to say goodbye to people you've worked with for ten years. This is such a glorious way to do it, and a dignified way to do it. To know we're going in for 12, we get to drop into gratitude, and be with the people you worked with for ten years for five more months and then officially say goodbye. I think that's a nice way to do it for us, and a nice way to do it for fans.
RELATED: Bones Cast, Producers on the Final Season, Last Undercover Episode
TJ Thyne: I'm very happy we have this opportunity. There was a very real shot we weren't going to. So the fact that Fox is allowing us to do 12 more for our fans, I love that; I'm very appreciative of that. I'm excited. I'm giddy. It's like being told you're able to throw one more party, and you're able to invite everyone you love. I'm really excited; I'm looking forward to it.
RELATED: Bones Original Cast Member on Returning In Shocking Twist
Michael Peterson: Full-on denial. I don't believe it's the final season. It feels great. Really, to be given this honor, to plan out the last 12 and to have fun. And we got Zack back! You asked for it, it happened. But the story is not yet done. We're having fun with that, and we're having fun with every one of the characters. Hopefully we'll give something that is unexpected, but rewarding.
Jonathan Collier: It's powerful and emotional, I've got to say, because the show has been so good to us; we've loved the show. And there's something very bittersweet about ending it. I think we're doing it at a good time, at a good place, there's no question. I love the way we're doing it, I love having 12 episodes to do it in, all of that's right. But it's a big part of me now. I'm really going to miss it.
Peterson: And there's something easier about doing the first couple of episodes—we haven't written the finale yet. That's when it's really going to get challenging to me. I can live in denial, and then when I see Episode 12 of Season 12, that's when it's going to be very real. I probably won't handle it well.
Collier: They [gave us a plaque on our soundstage]. My first instinct was, wow, we're finally there. My second instinct is, oh, I'm looking at my headstone. It's like, put the flowers on it.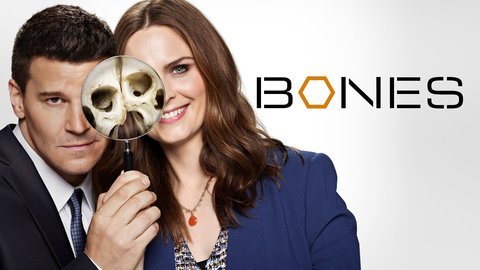 Bones
where to stream
Powered by