There Will Be a Whole Lot of Bryan Cranston on Amazon's 'Sneaky Pete'
On Thursday at New York Comic Con 2016 at the Javits Center, Amazon held a panel that featured the producers of three of their new original shows: Ben Edlund and Barry Josephson presented a new edition of The Tick (more on that later today), Gale Anne Hurd and Aaron Mahnke, who are producing a TV version of the popular podcast Lore, and Giovanni Ribisi and Graham Yost, who produce the drama Sneaky Pete.
RELATED: More New York Comic Con Coverage
Sneaky Pete has had an interesting history. Ribisi and Bryan Cranston are both executive producers, and the original pilot was made for, of all places, CBS. It's the story of a con man named Marius (played by Ribisi) who, in order to escape a vicious gangster (Cranston) from whom he stole a large sum of money, impersonates his old cellmate Pete. He moves in with his estranged grandparents (Margo Martindale and Peter Gerety) and becomes a key part of the family bail bondsman business as a "skip tracer," chasing down people who jump bail.
RELATED: Bryan Cranston Goes All the Way for His Return to TV
The original pilot felt more procedural, more, well, like a CBS show. "But they decided to do NCIS: Bronxville, that's the way it went," Yost (Justified) joked in the press room after the panel. The current version of the pilot, now streaming on Amazon Prime, has a few scenes shot exclusively for the streaming service. "It was going to be more of a 'skip tracer of the week' kind of thing, and then it evolved to something with a greater threat and a clock and having Cranston (in it)." When the first season drops sometime in 2017, the pilot will be different, and the season will have more "swearing and boobs," Yost jokes.
One thing we will be seeing is a whole lot more of Cranston as the gangster. "Our original view of Bryan that he'd be big in the second episode, then we'd use him here and there, and then he'd be big in the end," says Yost. "We ended up using him big throughout. We just couldn't avoid going back to that story, and he's the Big Bad. He made himself available, and he directed an episode."
When asked if Cranston will be Gus Fring (referencing Giancarlo Esposito's amazing performance as the main Big Bad on Cranston's classic series Breaking Bad), Yost said "Yes, he'll be our bad guy for the season."
RELATED: Amazon Goes Funny for Fall
Cranston's involvement is more than just lending his name as a celebrity EP, though; many of the characters may be near and dear to his heart. "I guess in one of Bryan Cranston's many Emmy acceptance speeches, he alluded to himself growing up and being called Sneaky Pete," Ribisi said during the panel. "It was essentially a more affable way of saying 'con man.' I don't know if it's necessarily autobiographical, but I just learned this a couple of weeks ago: Most of the characters are named after relatives and friends he had during his upringing."
Cranston was a sneaky Pete as a kid? We'd like to hear more about that.
Sneaky Pete, Debuts 2017, Amazon.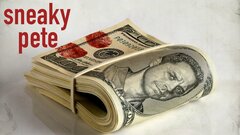 Powered by