'The Big Bang Theory': How Baby Wolowitz Will (and Won't) Change the Show
Long-running TV shows often bring their characters through life's milestone moments, something fans of The Big Bang Theory have been experiencing more of recent seasons. In this week's episode, Howard (Simon Helberg) and Bernadette (Melissa Rauch) finally become parents, while the romance between Sheldon (Jim Parsons) and Amy (Mayim Bialik) continues to evolve as they explore a new part of their sexual relationship.
For an inside peek into the shaping of this landmark episode, executive producer Steven Molaro discussed how the writers approached not only the birth of Howard and Bernadette's baby but also how it will impact the series moving forward.
We've seen different childbirths played out on TV over the years but how did you and the writers approach this episode?
You're right, there have been a lot of childbirths on TV. I think we wanted to avoid a lot of the mom-in-labor [and the] pushing and screaming stuff. We tried to stick more to the pre-pushing part.
And we've seen where once a baby comes in that it can be a big change for the characters and sometimes for the show. What will we see moving forward?
All these characters have been through changes and I think it's good for the growth of the characters. It's good for the growth of the show. I think it's realistic that at this age this far into the series when you've got seven people in their thirties and in relationships, somebody's going to have a baby. I don't think it's an unrealistic thing.
RELATED: First Look: Amy and Sheldon Shack Up on The Big Bang Theory
Who's going to have to make the biggest adjustment for the baby? Will it be Howard or Bernadette, or maybe even Raj (Kunal Nayyar), since he became so attached to this pregnancy?
And Stuart (Kevin Sussman) as well! Howard and Bernadette have two built in nannies [Stuart and Raj] vying to be a part of this mini family but it's an adjustment for everybody in how they're going to manage work after this. What's nice is they have such a system of friends in place that we can move forward and do a story about the baby or we can just do a regular old episode and the baby is being taken care of somewhere off screen. It's still The Big Bang Theory. It's a growth of our universe but not a massive series changing difference to the point, it's not like the show isn't the show anymore.
Sheldon and Amy are also part of the episode, exploring their sexual relationship a little bit more. It's really fun to watch but also a real part of any relationship.
We knew that as we had left it last year during the Star Wars episode that their coitus, at least for now, is an annual event. It was something that we couldn't really ignore. Sheldon and Amy are a fascinating couple to watch because they're fully grown adults but in some ways they are teenagers and each others' first loves. It's been such a treat to watch and grow that relationship. He doesn't hate being intimate with her, he's just uncomfortable and awkward about it, but he clearly doesn't dislike it. He's got his tactile issues and all the other things that go along with being Sheldon but it's fun to watch him grow and evolve even if it is at a glacial pace.
There's a really great moment where everyone talks about how far they've come over the years, which I thought about watching the episode!
It's a little meta. We've been doing this for 10 years and these characters really have grown and come a long way. It seemed like an opportunity to just take stick in how far they've come and the show's come. I hope it plays as a nice moment. We liked shooting it.
The Big Bang Theory, Thursdays, 8/7c, CBS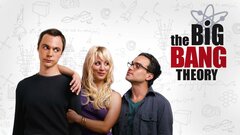 Powered by