'The Big Bang Theory': What's Next for Sheldon and Amy Post-Coitus?
Spoiler alert! Don't read further if you haven't watched the latest episode of The Big Bang Theory.
After five years of dating, Sheldon (Jim Parsons) and Amy (Mayim Bialik) finally put the big bang into tonight's episode of The Big Bang Theory.
The couple, who spent the majority of Season 9 apart before reconciling at the end of last week's episode, decided to become intimate after Sheldon struggled with what to get Amy for her birthday. While the rest of the gang was at the movie theater for the opening night of Star Wars: The Force Awakens, Sheldon and Amy finally had sex, much to Amy's extreme pleasure. Sheldon even admitted he enjoyed the act and promised it would become an annual event. But now that the deed is done, viewers should not expect many major changes to the duo's dynamic.
"I don't see any massive shifts; I think they'll always be Sheldon and Amy," says showrunner Steven Molaro. "I think it's important that while all seven characters reach different milestones with each other, the relationships never change drastically."
PHOTOS: The Highs and Lows of "Shamy" Over the Years
We caught up with Parsons and Bialik to get their thoughts on this momentous occasion.
Did this surprise you?
Bialik: Yes! Honestly, I could see Sheldon and Amy never dealing with it. I didn't know it was going to come, and definitely not so quickly on the heels of us reuniting.
It's been a trying year for Sheldon and Amy. Do you think they are better together?
Bialik: I don't know that sex means that, but I think in other ways, yes. We're showing more of a progression of Sheldon's process.
Parsons: Sheldon wants to show her how important she is, and him feeling that way is not really something we've dealt with. And one of the surprising things about the way the writers handled it is that once Sheldon decided to do it, he really was at peace. Which makes sense. It's not that it's not a big deal, but he's going through with it.
Bialik: It's more about the process of decision-making, and that's more of a Sheldon thing.
How does this change them going forward?
Parsons: Very little.
Bialik: Amy's already super swoony. There was a time where Amy was more persistent in wanting this physical intimacy, so I think we'll go back to that.
How will it change the dynamic within the rest of the group?
Bialik: I think it was interesting that Sheldon and Amy chose to include Penny (Kaley Cuoco) and Bernadette (Melissa Rauch) primarily.
Parsons: They want to take care of Amy, but the boys don't know. It does leave us with the possibility of a future reveal between Sheldon and the guys.
Now that they've had sex, do you think they'll be together for the rest of the show?
Parsons: I don't think that's what this means.
Bialik: Does that mean that anywhere in society? That hasn't been true since 1733! [Laughs]
Parsons: Neither one of them are religious beings, although they both came from religious households. So they don't feel a need to serve the Bible, but for the same reason, I could see them being very penguin-like in their mate for life aspects.
Bialik: But that emotional connection was there even without the coitus, which is why I'm surprised they did it so quickly.
Parsons: But this was a fine time to be doing it. I got tired of playing broken up, didn't you?
Bialik: Totally!
The Big Bang Theory airs Thursdays at 8/7c on CBS.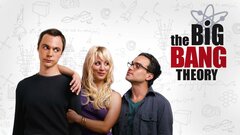 Powered by