Samuel L. Jackson on the Decade That Led to 'The Last Days of Ptolemy Grey' (VIDEO)
Nick Fury has left the building! In Apple TV+'s new drama, The Last Days of Ptolemy Grey, Samuel L. Jackson ditches his recent Marvel movie badassery for a far more vulnerable, yet equally heroic turn. And it's been a long time coming.
"I think I first bought the rights to the book 10, 12 years ago," Jackson, who, in addition to starring as Ptolemy Grey, also executive produces, says. "I have been trying to get it done and get it made for a pretty good while."
Based on the novel of the same name by bestselling author Walter Mosley, the series chronicles the life of Ptolemy, a feisty man slowly descending into dementia. As his memories begin to fade, so too do his connections to family and friends, although certain things — his late wife and a childhood quest — linger. After an unexpected turn of events leads Ptolemy to be paired with an orphaned teen named Robyn (the phenomenal Dominique Fishback) who is his reluctant caretaker, the duo wind up forming an unlikely bond that gives the show its heart.
"She is like a little ball of fire," Jackson raves about his young costar. "She brings things [to the work] and gives so much … I have never met an actress that journals as her character."
It's a good thing she does so much prep, because what awaits Robyn and Ptolemy after the first few episodes is heavy-duty: Ptolemy is offered an experimental treatment that can temporarily restore his evaporating memories, and potentially reveal truths about his past that were better left forgotten. But there's a cost that even the best HMO wouldn't cover.
The six-part series launches with two episodes, followed by one new episode weekly on Fridays.
Check out our video interview above for more!
The Last Days of Ptolemy Grey, Limited Series Premiere (two episodes), Friday, March 11, Apple TV+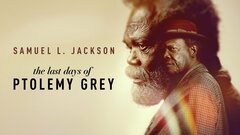 Powered by