'The Last Days of Ptolemy Grey' Stars Preview What's Next (VIDEO)
The Last Days of Ptolemy Grey may center around Samuel L. Jackson's titular character as he grapples with the challenges of dementia, but it's also about the various people surrounding him through this journey in Apple TV+'s six-part adaptation of Walter Mosley's novel.
In order to better understand what's ahead for Ptolemy and his crew, TV Insider's Damian Holbrook sat down with stars Cynthia Kaye McWilliams, Omar Miller, Marsha Stephanie Blake, and Dominique Fishback to discuss their characters and their connection to Ptolemy.
"I love her because she exists in a memory," McWilliams shares, in the video interview, above. "She pierces through his present," she adds noting that her character Senisa is "fierce" and "a woman outside of her time." McWilliams further elaborates that Sensia "is a woman who loved Ptolemy in a way that scares him." And viewers will learn more about their story and connection in the third episode as the actress teases this "is when we really see the deep dive."
Connected to Ptolemy through familial bonds are Reggie (Miller) and Niecie (Blake). While Miller says Reggie "seeks guidance that I don't think Ptolemy is any longer able to give him." Blake's Niecie is looking to do what she can to help Ptolemy and everyone around her.
See Also
Also, how did his young costar prepare for the gig?
"It's very hard for her to see someone she no longer recognizes and who no longer recognizes her," Blake says of Niecie and Ptolemy's bond. "I think at heart, Niecie is also a caretaker," the actress shares, but wanting to help and being able to are two different things. " I think what falls apart for her with Ptolemy, why she's unable to fulfill that [caretaker] role with Ptolemy is because she really feels helpless. It's something she can't fix."
And so, that caretaker role goes to Robyn (Fishback) who isn't so easily won over. "You have to earn that smile," Fishback says of Robyn's trust and kindness. "When you gain her trust you will see that she is all heart and all love."
See what else is in store for these characters with the video interview, above, and don't miss The Last Days of Ptolemy Grey on Apple TV+.
The Last Days of Ptolemy Grey, New Episodes, Fridays, Apple TV+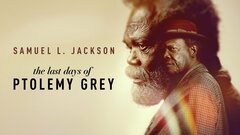 Powered by