'Law & Order': Sam Waterston Promises Familiar Faces & Issues in Revival (VIDEO)
There may be millions of fans of the original Law & Order, thrilled at the return of the mothership. (After a 12-year hiatus, Season 21 premieres Thursday, February 24.) But no one can be happier than Sam Waterston, who is reprising the beloved role of New York's D.A. Jack McCoy, which he originally played from 1994 through 2010. When TV Insider spoke with the actor, he seemed as happy about rejoining the show as a kid on Christmas morning!
"I never put [Law & Order] in the past," Waterston tells us. He did have a few worries when he was first approached for the "continuation," as many call the revived version of Dick Wolf's crime procedural. "I thought, 'could I go home again?'" he recalls. Those doubts disappeared the moment he stepped on the set, which looked much the same as it had when he last saw it, down to the books on the shelves and the linoleum on the floor. (The sets were in studios, however, that had moved from Manhattan to Long Island City, Queens.)
See Also
How did the crime classic make a miracle return more than a decade after it was sent up the river? And has 'L&O' changed?
Though Anthony Anderson is the only other actor back (full-time) from the old days — the black-ish star returns as Det. Kevin Bernard, and "he's such an asset to the show," says Waterston — the TV vet is also quite pleased with the new cast. Among them: Jeffrey Donovan as Bernard's opinionated partner Det. Frank Cosgrove, Camryn Manheim as Lt. Kate Dixon, and Hugh Dancy, as McCoy's senior assistant district attorney. We can also expect lots of popular characters back for visits, including early on — "one of my favorite people in the world," the Grace and Frankie star promises.
And most importantly, the actor notes, the format is exactly the same, including the iconic "cha-chung!" (or, as some insist, "duh-dun!") sound opening each episode, and its stories are still ripped-from-the-headlines. "We will talk about all the uncomfortable subjects of 2021 and 2022, in ways that are going to make people throw their shoes at the TV. Just like always. We'll march right up into contentious issues and take them on," Waterston promises. "You'd be disappointed if we didn't."
Law & Order, Season 21 Premiere, Thursday, February 24, 8/7c, NBC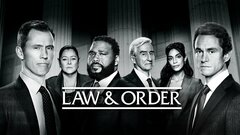 Powered by