The Road Back to 'Law & Order' With Dick Wolf, Sam Waterston & Anthony Anderson
You don't need to be a detective to figure out why Dick Wolf, network TV's most prolific producer, revived Law & Order, the crime drama that's about to enter Season 21 after a nearly 12-year hiatus. Rolling cameras again on the hit that spawned six spin-offs is "a dream come true" for him.
"Dick was talking about bringing [L&O] back since the day it was canceled in 2010—which he believed was a mistake," says Sam Waterston, who reprises the role he played for 16 seasons, Jack McCoy, continuing as New York district attorney. "He never gave up intending to do the show again."
That reality began to coalesce about a year and a half ago. "Dick had been talking to me on and off about the mothership coming back," says exec producer and longtime Wolf lieutenant Rick Eid. "Out of the blue, he called and said, 'We're doing it. Are you in?'"
Law & Order "is one of those shows that is so iconic, it's always been an idea to continue the story," says Lisa Katz, president of scripted content for NBCUniversal. As for the timing, "It feels like there's a real opportunity to show how the justice system has evolved over the past decade. I think it was one of the fastest yeses in the history of show business."
While issues have changed, the two-part format—investigation, then prosecution—remains the same. Out of six cast members, two familiar faces are returning, beginning with Waterston. "Dick felt strongly that it would be great to have Sam back," Eid says.
The veteran actor had one qualm. "I thought, 'Can you go home again?'" Waterston confesses. "But when I walked on the set, I realized, 'How could I have considered the possibility of missing this?'" Wolf felt the same, musing, "I look forward to him emulating the career of New York DA Robert Morgenthau, who served until he was 90!"
Although Waterston appears in each hour, it's Hugh Dancy as McCoy's senior assistant district attorney Nolan Price who does most of the prosecution's heavy lifting. "He is the one who's working his tail off and will have the satisfaction of killing the bull every week," Waterston says.
The pragmatic Price is a former defense attorney. "He has great respect for McCoy and appreciates his counsel when necessary," Eid notes, "but they look at the world a little differently and might have different perspectives on how to try a murder case in 2022."
Odelya Halevi, who plays smart, opinionated junior ADA Samantha Maroun, is not as familiar to audiences as her castmates, but her audition wowed producers. "Everybody fell in love with her," Eid recalls. "Dick said, 'She's the one!'" Halevi's character is the daughter of Lebanese immigrants and, adds Eid: "Her personal story informs her point of view."
Waterston is eager for the challenges McCoy and his team face. "The big stuff tearing us up right now—justice and fairness, policing and the courts, women and violence—is exactly what Law & Order is made for," he says.
Using the show's ripped-from-the-headlines formula to examine tough contemporary questions also appealed to the other returning cast regular, Anthony Anderson, who played Det. Kevin Bernard from 2008 to 2010. Anderson was in his trailer on the black-ish set when a friend informed him Wolf was reviving L&O. "I called Dick and when I told him I'd be a free agent in a few weeks, he said, 'Anthony, you have no idea how happy this phone call makes me.'"
Comments Eid: "The world's a lot different than the last time Law & Order was on, and we wanted somebody that could speak to those issues. Anthony felt like the perfect person to do that."
The actor, who says he "slid back into the role like it was a well-worn saddle," agrees. "As a Black detective in New York City, he's been dealing with issues like racism and sexism internally in his precinct and externally in the world as a Black man. This has been his life."
Bernard is still, however, a "by the book" cop, Anderson says, which means his relationship with his partner, Det. Frank Cosgrove (Jeffrey Donovan), can be rocky. Their views about policing are not always in sync, and neither can quite forget that Bernard, when he was in Internal Affairs, once investigated Cosgrove. Adds Anderson: "Bernard will keep an eye on him."
It's up to Lt. Kate Dixon (Camryn Manheim) to keep her eyes on them. "They're skilled and smart but sometimes get off track, and she has to rein them in," Manheim says. "Especially Cosgrove, who's a fantastic detective but a hothead." Donovan sees it a bit differently. "Frank has a high bar for justice. There will be opportunities to examine his idea of justice, and that might not sit too well with the prosecution."
In reality, the actors have become great friends—"like two peas in a pod," says Anderson. "I tell Jeffrey every day, 'I think you may be stuck with me!'" Thanks to the fun he's having on the show and being in New York again (not to mention going to Knicks games with Donovan), Anderson reveals, "I am leaning toward doing more than the year I signed on for."
You'll also see a (top-secret) familiar face—"one of my favorite people in the world," Waterston hints—in the season premiere, about a woman who exacts revenge on the person who victimized her. Another case based on real events is reimagined in Episode 3, says Eid, "which delves into a tech entrepreneur in the health field trying to cover up fraud at her company." But in the L&O world, there's a murder. Cha-chung!
Law & Order, Season 21 Premiere, Thursday, February 24, 8/7c, NBC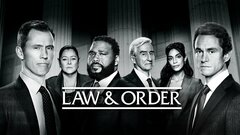 Powered by