2022 NASCAR Racing TV Schedules on Fox Sports & NBC Sports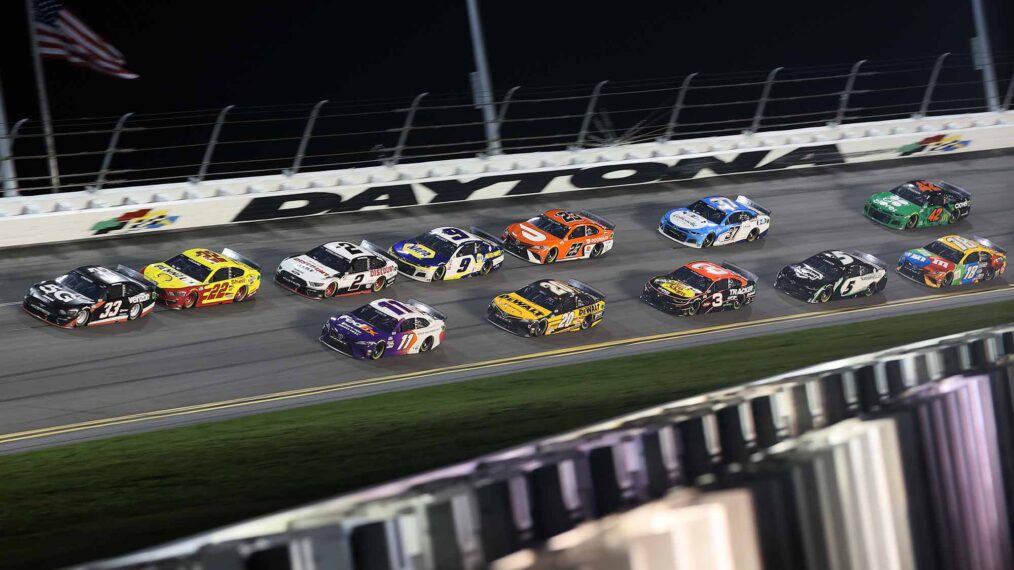 Kyle Larson had a dominant 2021 season that saw him win 10 races — the most since Jimmie Johnson won 10 in 2007 — and put the icing on the cake with a Championship 4 win at Phoenix and his first NASCAR Cup Series title.
Here's a peek at the biggest changes in store as Larson and his cohorts start their engines for 2022:
Next Gen Cars
NASCAR rolls out the latest Next Gen cars featuring redesigned bodies and chassis, enhanced aerodynamics, wider tires, 18-inch aluminum wheels with a single lug, rack-and-pinion steering, durable carbon-fiber materials and much more.
Clash at the Coliseum
The Clash, a non-points race traditionally held at Daytona, is run February 6 (Fox) on a 0.25-mile temporary asphalt oval in the Los Angeles Memorial Coliseum. The Busch Light Clash at The Coliseum will be the first NASCAR race held in a stadium used by the NFL since Chicago's Soldier Field hosted one in 1956.
Schedule Shifts
Action at Daytona begins with the Bluegreen Vacations Duels (February 17, FS1) and the famed Daytona 500 (February 20, Fox), but the road race at Daytona is off the schedule. The Cup Series returns to Auto Club Speedway in Fontana, California, February 27 (Fox) after a pandemic-caused hiatus. The Food City Dirt Race at Bristol (April 17, Fox) is the first NASCAR race on Easter since 1989. World Wide Technology Raceway near St. Louis makes its Cup Series debut on June 5.
Ganassi Says Goodbye
Chip Ganassi Racing sold its NASCAR operations to Trackhouse Racing, owned by Justin Marks and recording artist Pitbull. Trackhouse fields a two-Chevy team with Ross Chastain in the No. 1 and Daniel Suarez in the No. 99.
23XI Expands
23XI Racing, owned by Michael Jordan and Denny Hamlin, brings in a new teammate for Bubba Wallace with Kurt Busch driving the No. 45 Toyota.
RFK Racing
Brad Keselowski joins RFK Racing (formerly Roush Fenway Racing) as a driver/owner, competing in the No. 6 Ford previously driven by Ryan Newman. Austin Cindric takes over the No. 2 Team Penske Ford.
NASCAR on TV
Fox and FS1 split coverage of the first half of the season, with NBC and USA Network taking over the second half and playoffs. Jeff Gordon leaves the Fox broadcast booth for a high-level role with Hendrick Motorsports.
2022 NASCAR RACING SCHEDULES
All times Eastern. Schedules are subject to change.
NASCAR CUP SERIES SCHEDULE
Date/Race/Track/TV Network/Time
February 6: Busch Light Clash at The Coliseum/Los Angeles Memorial Coliseum, Fox, 6pm
February 17: Bluegreen Vacations Duels at Daytona/Daytona International Speedway, FS1, 7pm
February 20: Daytona 500/Daytona International Speedway, Fox, 2:30pm
February 27: Wise Power 400/Auto Club Speedway, Fox, 3:30pm
March 6: Pennzoil 400/Las Vegas Motor Speedway, Fox, 3:30pm
March 13: Ruoff Mortgage 500/Phoenix Raceway, Fox, 3:30pm
March 20: Folds of Honor QuikTrip 500/Atlanta Motor Speedway, Fox, 3pm
March 27: EchoPark Automotive Texas Grand Prix/Circuit of the Americas, Fox, 3:30pm
April 3: Toyota Owners 400/Richmond Raceway, Fox, 3:30pm
April 9: Blue-Emu Maximum Pain Relief 500/Martinsville Speedway, FS1, 7:30pm
April 17: Food City Dirt Race/Bristol Motor Speedway Dirt Track, Fox, 7pm
April 24: GEICO 500/Talladega Superspeedway, Fox, 3pm
May 1: Drydene 400/Dover Motor Speedway, FS1, 3pm
May 8: NASCAR Cup Series at Darlington/Darlington Raceway, FS1, 3:30pm
May 15: NASCAR Cup Series at Kansas/Kansas Speedway, FS1, 3pm
May 22: All-Star Open/Texas Motor Speedway, FS1, 6pm
May 22: All-Star Race/Texas Motor Speedway, FS1, 8pm
May 29: Coca-Cola 600/Charlotte Motor Speedway, Fox, 6pm
June 5: NASCAR Cup Series at World Wide Technology Raceway/World Wide Technology Raceway, FS1, 3:30pm
June 12: Toyota/Save Mart 350/Sonoma Raceway, FS1, 4pm
June 26: Ally 400/Nashville Superspeedway, NBC, 5pm
July 3: Kwik Trip 250/Road America, USA Network, 3pm
July 10: Quaker State 400/Atlanta Motor Speedway, USA Network, 3pm
July 17: NASCAR Cup Series at New Hampshire/New Hampshire Motor Speedway, USA Network, 3pm
July 24: NASCAR Cup Series at Pocono/Pocono Raceway, USA Network, 3pm
July 31: Verizon 200 at the Brickyard/Indianapolis Motor Speedway Road Course, NBC, 2:30pm
August 7: FireKeepers Casino 400/Michigan International Speedway, USA Network, 3pm
August 14: Federated Auto Parts 400/Richmond Raceway, USA Network, 3pm
August 21: NASCAR Cup Series at Watkins Glen/Watkins Glen International, USA Network, 3pm
August 27: Coke Zero Sugar 400/Daytona International Speedway, NBC, 7pm
Playoffs
Round of 16
September 4: Southern 500/Darlington Raceway, USA Network, 6pm
September 11: Hollywood Casino 400/Kansas Speedway, USA Network, 3pm
September 17: Bass Pro Shops Night Race/Bristol Motor Speedway, USA Network, 7:30pm
Round of 12
September 25: AutoTrader EchoPark Automotive 500/Texas Motor Speedway, USA Network, 3:30pm
October 2: YellaWood 500/Talladega Superspeedway, NBC, 2pm
October 9: Bank of America ROVAL 400/Charlotte Motor Speedway Road Course, NBC, 2pm
Round of 8
October 16: South Point 400/Las Vegas Motor Speedway, NBC, 2:30pm
October 23: Dixie Vodka 400/Homestead-Miami Speedway, NBC, 2:30pm
October 30: Xfinity 500/Martinsville Speedway, NBC, 2pm
Championship 4
November 6: NASCAR Cup Series Championship/Phoenix Raceway, NBC, 3pm
NASCAR XFINITY SERIES SCHEDULE
Date/Race/Track/TV Network/Time
February 19: Beef. It's What's for Dinner. 300/Daytona International Speedway, FS1, 5pm
February 26: Production Alliance 300/Auto Club Speedway, FS1, 5pm
March 5: Alsco Uniforms 300/Las Vegas Motor Speedway, FS1, 4:30pm
March 12: NASCAR Xfinity Series at Phoenix/Phoenix Raceway, FS1, 4:30pm
March 19: Nalley Cars 250/Atlanta Motor Speedway, FS1, 5pm
March 26: Pit Boss 250/Circuit of the Americas, FS1, 4:30pm
April 2: ToyotaCare 250/Richmond Raceway, FS1, 1:30pm
April 8: NASCAR Cup Series at Martinsville/Martinsville Speedway, FS1, 7:30pm
April 23: Ag-Pro 300/Talladega Superspeedway, Fox, 4pm
April 30: NASCAR Xfinity Series at Dover/Dover Motor Speedway, FS1, 1:30pm
May 7: NASCAR Xfinity Series at Darlington/Darlington Raceway, FS1, 1:30pm
May 21: Texas 250/Texas Motor Speedway, FS1, 1:30pm
May 28: Alsco Uniforms 300/Charlotte Motor Speedway, FS1, 1pm
June 4: NASCAR Xfinity Series at Portland/Portland International Raceway, FS1, 4:30pm
June 25: Tennessee Lotter 250/Nashville Superspeedway, USA Network, 3:30pm
July 2: Henry 180/Road America, USA Network, 2:30pm
July 9: Alsco Uniforms 250/Atlanta Motor Speedway, USA Network, 5pm
July 16: NASCAR Xfinity Series at New Hampshire/New Hampshire Motor Speedway, USA Network, 2:30pm
July 23: NASCAR Xfinity Series at Pocono/Pocono Raceway, USA Network, 5pm
July 30: Pennzoil 150 at the Brickyard/Indianapolis Motor Speedway Road Course, NBC, 3:30pm
August 6: NASCAR Xfinity Series at Michigan/Michigan International Speedway, USA Network, 3:30pm
August 20: NASCAR Xfinity Series at Watkins Glen/Watkins Glen International, USA Network, 3pm
August 26: Wawa 250/Daytona International Speedway, USA Network, 7:30pm
September 3: Sport Clips Haircuts VFW Help a Hero 200/Darlington Raceway, USA Network, 3pm
September 10: Kansas Lottery 300/Kansas Speedway, USA Network, 3pm
September 16: Food City 300/Bristol Motor Speedway, USA Network, 7:30pm
Playoffs
Round of 12
September 24: Andy's Frozen Custard 300/Texas Motor Speedway, USA Network, 3:30pm
October 1: Sparks 300/Talladega Superspeedway, USA Network, 4pm
October 8: NASCAR Xfinity Series Playoff Race at Charlotte ROVAL/Charlotte Motor Speedway Road Course, NBC, 3pm
Round of 8
October 15: Alsco Uniforms 302/Las Vegas Motor Speedway, NBC, 3pm
October 22: Contender Boats 250/Homestead-Miami Speedway, USA Network, 4:30pm
October 29: NASCAR Xfinity Series Playoff Race at Martinsville/Martinsville Speedway, NBC, 3pm
Championship 4
November 5: NASCAR Xfinity Series Championship/Phoenix Raceway, USA Network, 6pm
NASCAR CAMPING WORLD TRUCK SERIES SCHEDULE
Date/Race/Track/TV Network/Time
February 18: NextEra Energy 250/Daytona International Speedway, FS1, 7:30pm
March 4: Victoria's Voice Foundation 200/Las Vegas Motor Speedway, FS1, 9pm
March 19: Fr8Auctions 200/Atlanta Motor Speedway, FS1, 2:30pm
March 26: Toyota Tundra 225/Circuit of the Americas, FS1, 1pm
April 7: NASCAR Camping World Truck Series at Martinsville/Martinsville Speedway, FS1, 8pm
April 16: Pinty's Truck Race on Dirt/Bristol Motor Speedway Dirt Track, FS1, 8pm
May 6: NASCAR Camping World Truck Series at Darlington/Darlington Raceway, FS1, 7:30pm
May 14: NASCAR Camping World Truck Series at Kansas/Kansas Speedway, FS1, 8pm
May 20: SpeedyCash.com 220/Texas Motor Speedway, FS1, 8:30pm
May 27: North Carolina Education Lottery 200/Charlotte Motor Speedway, FS1, 8:30pm
June 4: Toyota 200/World Wide Technology Raceway, FS1, 1:30pm
June 11: NASCAR Camping World Truck Series at Sonoma/Sonoma Raceway, FS1, 7:30pm
June 18: NASCAR Camping World Truck Series at Knoxville/Knoxville Raceway, FS1, 9pm
June 24: Rackley Roofing 200/Nashville Superspeedway, FS1, 8pm
July 9: NASCAR Camping World Truck Series at Mid-Ohio/Mid-Ohio Sports Car Course, FS1, 1:30pm
July 23: NASCAR Camping World Truck Series at Pocono/Pocono Raceway, FS1, 12pm
Playoffs
Round of 10
July 29: NASCAR Camping World Truck Series Playoff Race at Lucas Oil Indianapolis Raceway Park/ Lucas Oil Indianapolis Raceway Park, FS1, 9pm
August 13: NASCAR Camping World Truck Series Playoff Race at Richmond/Richmond Raceway, FS1, 8pm
September 9: NASCAR Camping World Truck Series Playoff Race at Kansas/Kansas Speedway, FS1, 7:30pm
Round of 8
September 15: UNOH 200/Bristol Motor Speedway, FS1, 9pm
October 1: Talladega 250/Talladega Superspeedway, FS1, 12:30pm
October 22: Baptist Health 200/Homestead-Miami Speedway, FS1, 1pm
Championship 4
November 4: Lucas Oil 150/Phoenix Raceway, FS1, 8pm