'Pitch's Mark-Paul Gosselaar on Mike's Past and Upcoming Complications with Ginny
Spoiler alert! This post contains spoilers for the November 10 episode of Pitch.
Pitch's Ginny (Kylie Bunbury) isn't the only San Diego Padres player with unresolved father issues.
Thursday's episode of the Fox drama revealed, via flashbacks, that a young Mike was nurtured as a ballplayer by a supportive coach … who was actually his M.I.A. father. Unfortunately for Mike, he only learned that as his mother was moving them away. In present day, Mike (Mark-Paul Gosselaar) visited his father's home, but opted not to approach him; instead, he watched the man play ball with his grandson.
RELATED: Will Pitch Lead the Way to More TV Shows About Sports?
Looking ahead, Gosselaar admits he's curious where the writers take that storyline. "In the subsequent episodes, we haven't touched on that at all," he says. "We have such a big cast, that we sort of move on from certain storylines. I'm sure it'll come up in the future. I hope so. I'd love to see where that is going to go."
There was also a conversation within the Pitch team about how Mike should react upon seeing his father after all of those years. "There are so many different ways I could have played the last scene; I actually can't wait to watch it," Gosselaar admits. "We were debating how Mike would look when he saw his father, what he would do and his reaction. So I'm interested to see which take they actually use—some of the writers thought I'd react one way, and some of the other writers thought I'd react another way."
RELATED: Pitch: Mark-Paul Gosselaar Previews Insight Into Mike's Past
Mike's loyalty to Ginny, however, wasn't in question: when it became obvious the hacked compromising photos of her were going to be released, her teammates rallied around her to change the narrative—by taking professional nude shots, showcasing their athletic strength.
"Filming that scene where we were all naked—Mo [McRae, who plays Blip] and I had been training for that for months, knowing that was coming up," Gosselaar says. "We pushed each other to continue dieting and working out, and all that stuff. It helps if you have someone like-minded who has your back; Mo is definitely that person. But I was happy the way it turned out. I don't know how much they show, but the photos I saw, I was like, 'Wow, that looks pretty damn awesome.'"
Though there was a bit of flirtation between Mike and Ginny during the photo shoot, "I don't think it changes the relationship much," Gosselaar says. However, changes could be ahead. "It gets a little more complicated toward the end of the season," he previews. "We're shooting [Episode 10, the season finale] now—and it's super complicated in 9 and gets awkward in 10."
Pitch, Thursdays, 9/8c, Fox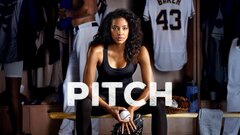 Pitch
where to stream
Powered by