Will 'Pitch' Lead the Way to More TV Shows About Sports?
Whether its NFL football, the Olympics or the World Series, sports score huge ratings. Which is why it's no surprise that one of the biggest swings of the new season is Fox's Pitch. The drama chronicles the first female Major League Baseball player, Ginny Baker (Kylie Bunbury), as she joins a fictional version of the San Diego Padres. While trying to prove that she's got what it takes on the pitcher's mound, Ginny deals with an intense media spotlight as well as sexism on and off the field. Pitch follows recent sports-set series like HBO's Ballers (football) and Starz's Survivor's Remorse (basketball).
The premiere of Pitch, which built on its lead-in (Rosewood), drew 4.2 million viewers. Ironically, airing opposite CBS's Thursday Night Football didn't help, as the Texans-Patriots game brought in 17.5 million viewers. Pitch's second episode dipped slightly to 3.7 million.
It makes sense that networks are eager to develop sports-themed scripted series, says Robert Thompson, trustee professor and director of the Bleier Center for Television and Popular Culture at Syracuse University. "This country is obsessed with sports," he notes. "The Super Bowl is the highest-rated show every year. It seems natural that we could make this work."
RELATED: Pitch: Is Ginny Dating Drake?! (VIDEO)
Pitch executive producer Dan Fogelman (who also created NBC's This Is Us, which was just picked up for a full season) is convinced his baseball series has what it takes, despite the fact that past TV shows about America's pastime haven't succeeded (see: A League of Their Own, Back in the Game). He also believes that the trick is to not have the narrative focus entirely on the sport. "I think we have a conceit that can appeal to everybody, whether or not they're a baseball fan," Fogelman says of Pitch. "At the end of the day, it's about a young woman coming of age at 23 years old in the national spotlight. That could be a young woman entering politics, or entering the workforce or starting work at a magazine. It could be anything. And if you get the characters right, hopefully the appeal of the show is broad enough to hook in baseball fans."
Indeed, when Fox was considering adding the drama to its lineup, execs saw potential in Pitch beyond the baseball field. Fox Entertainment president David Madden points out a few popular series where the backdrop wasn't the main reason viewers tuned in. "You could say there wasn't a successful musical show until Empire. You could say there wasn't a successful show about politics until The West Wing. The stories that Dan [and his writers] are trying to tell are genuinely unique."
RELATED: Pitch Star, Executive Producer on the Ginny Twist
Thompson cites Friday Night Lights, the critically acclaimed football drama that aired on NBC and then DirecTV from 2006–11, which gave equal time to the characters' lives on and off the field. "That show was not only about a Texas town's football program, but it also had great characters." But creating the balance is a challenge. "Maybe [live] sports get such good ratings because it is such a dramatic situation—someone is going to win and you don't know who," Thompson says. "That's a lot harder to put into a scripted program. You can't gamble on who's going to win the football game on Friday Night Lights."
The future of Pitch has yet to be decided, but recent sports-centric series have proven that if you build it (correctly), audiences will come. This summer, the third season of Survivor's Remorse (about a successful young basketball player and his family) increased its audience by 26 percent over its second season and a whopping 53 percent over Season 1. It was no surprise when Starz picked it up for a fourth season. Ballers is one of HBO's top-rated series in the advertiser-coveted 18–49 demographic—ahead of the Emmy-winning Veep and buzzier shows like Girls—and was renewed for a third season. And with Fox airing the World Series starting October 25, providing a perfect tie-in to promote Pitch, don't be surprised if it earns some extra innings.
Pitch, Thursdays, 9/8c, Fox.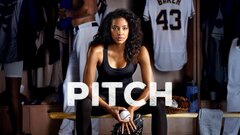 Pitch
where to stream
Powered by