Roasting the Jonas Brothers, 'New Amsterdam' Superbug, 'Top Gear' Revs Up, HBO's 'Black and Missing'
Those musical Jonas Brothers get roasted in a Netflix comedy special. New Amsterdam's winter finale introduces a superbug to the hospital, delaying Dr. Max and Helen's departure plans. Get behind the wheel of a new season of the long-running Top Gear on BBC America. HBO launches a lineup of true-crime documentaries with a two-night spotlight on Black missing-persons cases.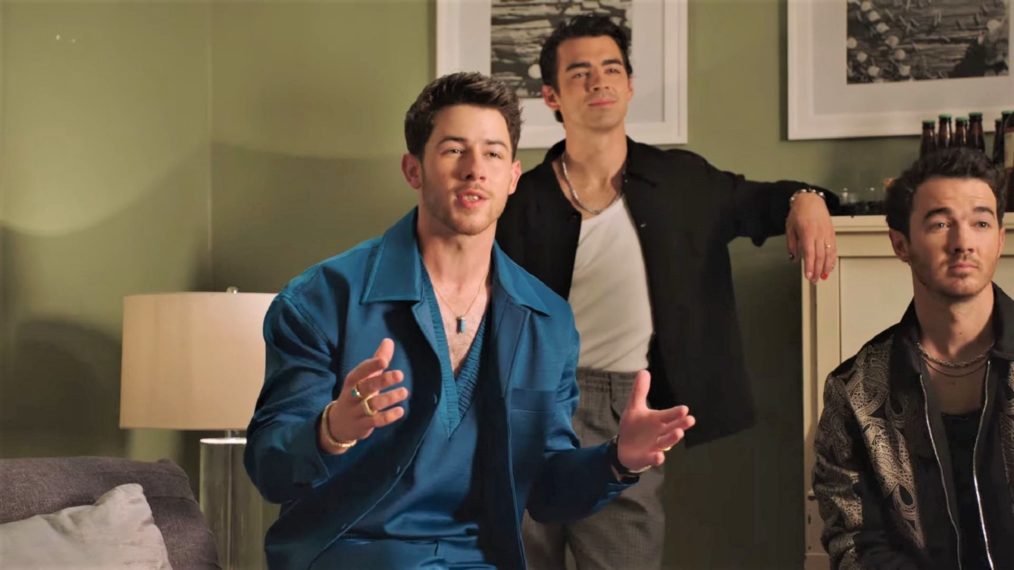 Jonas Brothers Family Roast
Brotherly love is put to the test when Nick, Kevin and Joe Jonas subject themselves to a good-natured roast in a comedy special featuring sketches, songs, games—and celebrity appearances by the likes of Saturday Night Live's Pete Davidson, Niall Horan, John Legend, Gabriel "Fluffy" Iglesias, Jack Whitehall, Lilly Singh and more. Hosting the festivities: SNL's Kenan Thompson.
New Amsterdam
Will they stay or will they go? That question has been dogging the medical drama all season—although who really thinks the star of the show, Dr. Max (Ryan Eggold), will leave his friends and colleagues behind to head to London with his amour, Dr. Helen (Freema Agyeman)? Their departure plans are put on hold when a deadly superbug infects the hospital, which could mean a midseason cliffhanger. (The show returns with new episodes Jan. 4.) In other developments, Leyla (Shiva Kalaiselvan) confronts her girlfriend Dr. Lauren Bloom (Janet Montgomery) over the secret behind her employment, which we all knew would blow up in the ED chief's face.
Top Gear
The long-running motorhead show is back for a 31st season, the fifth with hosts Chris Harris, Freddie Flintoff and Paddy McGuiness. In the opener, they're off to the British Grand Prix for a competitive showdown with three Formula 1 racers.
Black and Missing
Launching a monthlong Tuesday series of timely true-crime documentaries, HBO devotes two nights to the efforts of the Black and Missing Foundation, founded by sisters-in-law Derrica and Natalie Wilson, who aim to bring awareness to the many Black missing-persons cases that are often marginalized by law enforcement and the media. Four episodes air over two nights (concluding Wednesday), with wrenching stories of missing loved ones and the grass-roots organization devoted to keeping these cases open and active.
Inside Tuesday TV:
The Flash (8/7c, The CW): Black Lightning (Cress Williams) brings his sizzle to the "Armageddon" arc, providing counsel to a deeply troubled Flash (Grant Gustin) in his battle against Despero (Tony Curran).
The All-Americans (8/8c, Fuse and Fuse+): Not to be confused with the CW series, this documentary profiles four high-school students prepping for the East L.A. Classic football game in the largely Latinx neighborhood.
La Brea (9/8c, NBC): In the first season's penultimate episode, the craziness continues as Eve (Natalie Zea) in this Garden of Stupid considers the implications of little Isiah (Diesel La Torraca) being the younger version of her husband Gavin (Eoin Mackin). Now the race is on to get the boy through another sinkhole portal so their own children aren't erased from the timeline.
Home from School: The Children of Carlisle (10/9c, PBS, check local listings at pbs.org): Airing during Native American Indian Heritage Month, this important Independent Lens documentary examines the disturbing 19th-century history of brutal government-run Indian boarding schools in the U.S.
Queens (10/9c, ABC): While a rehabbed Lil Muffin (Pepi Sonuga) tries to get her career restarted, the comeback Queens prepare to shoot their first music video in nearly 20 years, donning skin-tight judges' robes for the single "All Rise (The Supreme Court)."
Real Sports with Bryant Gumbel (10/9c, HBO): Reports on the sports newsmagazine include an investigation into allegations of sexual abuse in the University of Michigan's athletic department reaching back to the 1960s, a profile of former NBA star Amar'e Stoudemire and his embrace of Judaism, and the uplifting account of how Pearl Jam bassist Jeff Ament is combating Montana's suicide rate by building skate parks throughout the state to promote skateboarding to isolated youths.
Waffles + Mochi's Holiday Feast (streaming on Netflix): The food-centric children's puppet show takes a whimsical look at holiday food traditions in Norway and Hawaii, concluding that these festive gatherings aren't always about what we eat but whom we love.
Mary McCartney Serves It Up (streaming on discovery+): The celebrity photographer and vegetarian cookbook author shares recipes and some potent potables with an A-list group of guests, including her dad, Paul McCartney, sister Stella, Reese Witherspoon and Oprah Winfrey, who learns how to make a Bloody Mary Dip.