Hey, Ghul, Heyyyy. 'Stargate SG-1' Vet Targets 'Arrow' as Talia al Ghul!
They grow up so fast in the Arrowverse. Last seen as a tween on DC's Legends of Tomorrow, Talia al Ghul—daughter of the late Ra'sv(Matt Nable) and half-sister of the perpetually scowling Nyssa (Katrina Law)—is coming to Arrow this season in the form of sci-fi favorite Lexa Doig.
A vet of Continuum, V, Andromeda and Stargate SG-1, Doig is set to bow in the this season's 10th episode. Described as "worldly and cultured," her Talia "is an elite warrior who doesn't pick sides but rather creates her own." Seeing how Oliver (Stephen Amell) offed her father and Nyssa destroyed pop's League of Assassins Lazarus Pit, we can only imagine this troublemaker (who is the mother to Bruce Wayne's bratty son, Damian, in the Batman comics) is coming to Star City with a serious vengeance.
Good thing she's only recurring, because honestly, Ollie has enough full-time problems to deal with already.
Arrow, Wednesdays, 8/7c, The CW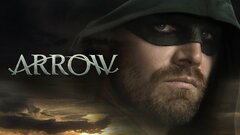 Arrow
where to stream
Powered by