'Supergirl': 'Wonder Woman' Lynda Carter Takes a Turn as the President
Supergirl sure is keeping good company these days. After opening her sophomore season with a two-episode arc starring famous cousin Superman (Tyler Hoechlin), Melissa Benoist's caped charmer, Kara Zor-El, will rub elbows with Wonder Woman herself in the October 24 episode when Lynda Carter guest stars as the president of the United States.
"It's beyond iconic," exec producer Ali Adler says of the clever casting, which sprouted in part from her own hero worship of Carter's star-making 1975–79 stint in the satin tights of DC Comics' legendary Amazon. "Growing up, Wonder Woman was the paradigm of strength and intelligence. She was the female anchor of an [action series] at a time when just some sitcoms had female leads—Maude and stuff like that. She was a strong, intelligent female with a heart, so it wasn't a question or debate as to who would play the president…it was always Lynda Carter."
RELATED: A Supergirl "Crisis" to Die For?
The desire to lasso the actress for the role of White House powerhouse Olivia Marsdin was so strong, in fact, that Team Supergirl was willing to wait for Carter to clear her schedule. "The producers called me last year and said, 'You know, we really want you to do this part.' And I said, 'I'd love to! I think that sounds wonderful,'" recalls Carter, 65. Unfortunately, she already had her 93-year-old father's wedding and a planned concert performance on the books at the same time she would have been needed on set. "I just couldn't get things to work out then, but when the show was renewed and then moved to The CW, I said, 'Absolutely!'"
No stranger to female superheroes who've jumped networks after one season—Wonder Woman premiered on ABC and then flew her invisible jet to CBS for her second and third seasons—Carter found an instant fan on set. "Lynda is truly all things wonderful—sorry for the pun!" says Benoist, confessing that she "felt pretty damn special" when Carter gave her a lesson in the Wonder Woman twirl. "She's charming, strong and brassy, warm, smart and an amazing singer," the actress says. "I was so impressed by what she told me about her experience during Wonder Woman. She was a pioneer for women."
RELATED: Supergirl: Superman and Other Kryptonians Visit National City in Season 2
Now, she's pioneering for aliens—the space kind. "The president is trying to create something called the Alien Amnesty Act and, you know, different people are going to have different reactions to that," teases Adler. "Her life may be in danger as a result of coming out in support of aliens nationally." In fact, after what's being described by both Carter and Adler as "an incident" that ignites alien-versus-human tensions in National City, Marsdin will definitely need extra security during a visit to the new Department of Extra-Normal Operations facility. Sounds like a job for everyone's favorite extraterrestrial—Supergirl!
"What President Marsdin stands for and is fighting for politically on the show is quite heroic, so naturally, Supergirl is in awe of her and a huge supporter," Benoist explains. "Kara is basically the president's biggest fan and has zero poker face about it." Still, as Kara knows all too well herself, no hero is infallible. "They are allies, but I do think the president has a few secrets as well."
Carter's off-camera life has served as a kind of research for her small-screen Oval Office gig. As a resident of Washington, D.C., for the past three decades, she has been active in the capital's social and philanthropic scene and has pretty much seen it all. Lately, however, "it's getting so weird, I can't even stand it," she exclaims. "That's why I decided to take over and actually become the president."
As for her inspirations, Carter equates Marsdin's style to the "elegance" of former Speaker of the House Nancy Pelosi and her political stance to Hillary Clinton. She notes the similarities between the efforts of the woman who could become the country's first female commander in chief and her CW surrogate's pro-alien platform: "Olivia is doing what presidents should do, and that's protecting a group of people that have been misunderstood," Carter says.
And while the storyline does seem to echo current events, Adler is quick to veto the idea of Supergirl flying into West Wing territory. "It's not that we're a political show, but it was our moment to speak out about inclusion," she says. "It's a beautiful episode about seeing everyone equally."
Supergirl, Mondays, 8/7c, The CW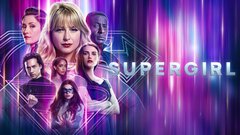 Powered by