'The Umbrella Academy' Season 2 First Look: What's Next After That Time Jump? (PHOTOS)
Your favorite dysfunctional family with superpowers returns this July.
The Umbrella Academy is back on Netflix with its second season on Friday, July 31, and now the streaming service has teased what's to come with the first group of photos and an official synopsis.
As you'll recall, Vanya (Ellen Page) was not powerless as everyone had thought, and to escape the apocalypse she caused in 2019, Five (Aidan Gallagher) used his powers to transport his family to another time. Unsurprisingly, doing so was as "risky" as he'd said, and as a result, the siblings have been scattered over a period of three years, beginning in 1960, in the Dallas, Texas area.
See Also
Can this unlikely group of extraordinary people save the world?
"Some having been stuck in the past for years, have built lives and moved on, certain they're the only ones who survived," Netflix teases. "Five is the last to land, smack dab in the middle of a nuclear doomsday, which — spoiler alert! — turns out is a result of the group's disruption of the timeline (déjà vu, anyone?)." Can the Umbrella Academy find their way back together, stop that nuclear doomsday, and get back to present day to stop the apocalypse they'd left behind? Plus, there's a new threat to the Hargreeves: a trio of ruthless Swedish assassins.
Scroll down for a look at the Umbrella Academy in the past, as well as some of the new characters.
In addition to Page and Gallagher, The Umbrella Academy also stars Tom Hopper (Luther), David Castañeda (Diego), Robert Sheehan (Klaus), Emmy Raver-Lampman (Allison), and Justin H. Min (Ben) as the rest of the Hargreeves family.
See Also
Klaus has it all: perfect comedic timing, incredible fashion sense, a heartbreaking love story, a desert-dry wit, and the power to communicate with the dead.
The Netflix series, based on Gerald Way and Gabriel Bá's comic books, follows seven of 43 infants born to random, unconnected women who had shown no signs of pregnancy the day before. A billionaire adopted those seven and formed The Umbrella Academy, preparing them to save the world. They reunited after his death.
Steve Blackman serves as showrunner. Joining him as executive producers are Jeff F. King, Mike Richardson, and Keith Goldberg, with Way and Bá as co-EPs.
Scroll down for a look at the new season!
The Umbrella Academy, Season 2, Friday July 31, Netflix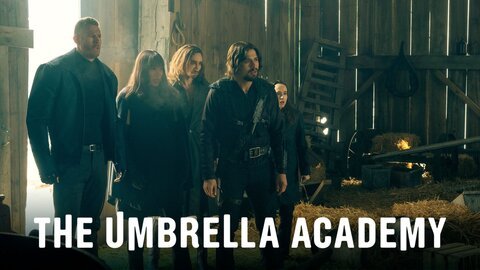 Powered by