Scoop on Hulu's Upcoming Psychic Drama 'Shut Eye'
Hulu hosted a panel and screening for their upcoming drama Shut Eye at New York Comic Con on October 7, moderated by TV Guide Magazine West Coast Bureau Chief Jim Halterman.
The event opened up with the first half of the Shut Eye opener, which delves into the dark world of Los Angeles psychics who mix with a dangerous family of gypsies. The show centers on failed-magician-turned-fake-psychic Charlie Haverford (Jeffrey Donovan) and his wife Linda (KaDee Strickland). Charlie experiences an incident that actually gives him psychic visions – as opposed faking them while duping marks out of money.
RELATED: Community's Final Season, Underground and Outsiders Land at Hulu
The panel featured creator Les Bohem, and stars Donovan, Strickland, Isabella Rossellini, Emmanuelle Chriqui and David Zayas.
"It's horrifying, comical, crazy and dangerous," Bohem exclaimed about the series. Not only that, but it's got an interesting character at it's center, Charlie, who Bohem explains is "a bad guy in a bad world trying to be good." Later adding, "I mean it to be a long, twisted journey to sainthood."
Check out the teaser trailer:
The show doesn't just cast a light on Charlie, but his relationship and marriage to Linda. "It's [Charlie's] second marriage and you'll see that come out in the storyline," Donovan says, previewing that their marriage isn't the strongest. "They want to retain the family and the marriage, mostly for their son."
"There is a very Shakespearean element to this show," Strickland said while citing the show's Macbeth-like elements. "There's something grand about anyone living the way they live."
Donovan adds, "There's a moral line and I think at some point every single [character] will cross it."
RELATED: More Dispatches From Comic Con
Speaking of morals, Rossellini's gypsy matriarch Rita is definitely not on the moral high ground. "She is a villain, definitely," Rossellini says. "I was interested in playing the woman who is kind of the Godfather of the group. She's really in charge." She even watched Marlon Brando in the Godfather for character inspiration.
Even more questionable morals come with hypnotist Gina (played by Chriqui), who immediately clashes with Linda. "She comes from Vegas with her own bag of tricks," she explains. "What you see is not what you get." Adding, "She will stop at nothing to take care of herself first and foremost."
Meanwhile, Zayas was drawn to his character Eduardo because, "He was a bit, weird eccentric," he said. "He's not a part of that psychic world. He's somebody from the outside. What I found interesting is how is this character going to crash into the nucleus of the story."
"The thing that was so intriguing about it was that everybody just left the center. Nobody's normal," Chriqui said. With this colorful cast of personalities, we believe it.
The most interesting facet of the story is why and how Charlie managed to become a psychic, something that Bohem promises we'll learn. "He didn't just start getting visions on a Tuesday for no reason, so we'll get into the implications of Why Now," he says.
Shut Eye premieres on Hulu on December 7.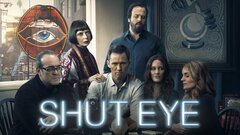 Powered by