Will Isabella Rossellini's Rita Survive Prison on 'Shut Eye' Season 2?
We saw Rita Marks (Isabella Rossellini) in many tough positions during the first season of Hulu's Shut Eye, which explores the world of crime bosses trying to maintain control of con artists and fortune tellers.
Use to calling the shots and having everyone do her bidding, Rita's reign as boss came crashing down due to her impulsive son, Fonso (Angus Sampson), who set his mother up for murder. Cue Rita in an orange prison suit when all episodes of the show's second season drops on Hulu on Wednesday.
Besides Rita in the big house, the second season also picks up on Charlie (Jeffrey Donovan) and Linda (KaDee Strickland) as the couple begins the new season trying to figure out where their life is heading next.
See Also
'Agents of S.H.E.I.L.D.', 'Younger', 'Legion' and more are coming to Hulu this month.
The legendary Rossellini, in her first full time television series role, talked to TV Insider about how Rita will do in prison, who she will align with if and when she gets out and, also, how it's been having a new showrunner steer Shut Eye in its second season.
I have to say I love Rita in orange. Let's talk about that!
Isabella Rossellini: The prison scene, yeah.
Where do we find Rita when we meet her in jail?
The last episode of season one ends where my son (Fonso, played by Angus Sampson) sets me up to make the police believe that I have killed White Tony. So this season starts with me in jail and having a fantastic scene with Big Tough (Lorrie Odom). It was a fantastic scene where it's who's going to be the toughest woman? Of course, Rita is very suave and Big Tough is very crude but Rita sees the same toughness in her.
So we'll be seeing Big Tough throughout the season? She's so fun.
Yes. One of the great pleasures that I didn't know, because it's the first time that I am in a series, is that the show alive. The showrunner has a feel of where the show should go but then occasionally there is an encounter with a great actress or character and then that character unexpectedly comes back. So this year, we had two characters like that it was really great. The other character is the FBI agent, played by Noah Bean. He just came in and it was so fun to work with him, and he's such a nice man.
Assuming Rita eventually gets out of jail, how will her reunion with her son go?
I imagine Rita to be from the old country – that's why they hired me because I have an accent –so she's very attached to her family. She's a wonderful grandmother but a horrible person. She had hoped that her son to be the crown prince, to take over, because she's the queen, she's the godmother of this gang. But he has disappointed her. He's too impulsive and cannot really control his emotion so he gets in trouble so in this season there is really the conflict with my son, played wonderfully by the Australian actor, Angus Sampson.
This year, Rita also becomes closer with Simza, who plays White Tony's widow. That's also another fantastic actress, Layla Alizada. I just emailed her yesterday and I said, "It's incredible how from the first season where you had some lines but it was really the wife that was following the boss. Now, instead she speaks and the female power, while not declared openly, they control it. It was written so well and it was so much fun to play. Occasionally we're competing for power and control, and occasionally we are great accomplices.
There's a new showrunner in season two in John Shiban (Hell on Wheels, Breaking Bad). Did you feel a difference in shooting season two?
Yes, I did. I was very fond of [show creator] Les Bohem. He's a true artist and I really liked him. John had a very difficult position to come in with a group of actors who had already worked six months together but he is so experienced, everything comes easy out of him, that was really what I admired the most. And he's always smiling!
What do you think is Rita's biggest obstacle in season two?
The biggest obstacle is that she wants her family, the Marks, to have control over the business of fortune telling. She cannot count on her son so she has to maneuver a lot of people to keep the control. The other person who she's looking at though she's very young is her granddaughter but she's hardly 18 but I am grooming her to be the next godmother. Those are among my favorite scenes because the grandmother is teaching her the most immoral way of how to manipulator, Those are among the most wonderful scenes that I had, as the character, it's so crazy.
Watch the Season 2 trailer below:
https://www.youtube.com/watch?v=9AOPSklSI-8
Shut Eye, Season 2, Dec. 6, Hulu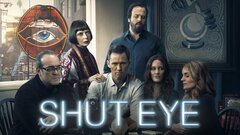 Powered by