'Code Black' Preview: Unhappy Reunion For Savetti and His Father
The always intense, over-crowded ER at Angels Memorial is a challenge on a daily basis for the medical staff on Code Black, but Dr. Mario Savetti (Benjamin Hollingsworth) faces an even bigger jolt this week when his estranged father (Eric Roberts) shows up. The CBS medical drama, which now boasts Rob Lowe among its cast, premiered Season 2 last week with 6.4 million viewers and held its own in a tough time slot that includes NBC's Chicago P.D. (6.1 million) and ABC's new hit Designated Survivor (8 million and already picked up for a full season).
Since Code Black's beginning, we've gradually learned that second-year resident Savetti didn't have the happiest upbringing and also hasn't always been the easiest to work alongside. That said, Savetti has worked hard at being a better doctor and a better person. Meeting his alcoholic father will surely give viewers an even better idea who Savetti is. Hollingsworth filled TV Insider in on the unhappy reunion with Dad, as well as how his character makes an unlikely connection with another patient in this episode.
How does Savetti feel when he first sees his father?
Disgusted, frustrated and embarrassed. "Here we go again" rumbles through his mind when Mario first hears his dad's voice. We get the sense this isn't the first time Mario's dad surprisingly shows up out of the blue to ask for money. Savetti is just starting to settle into Angels Memorial and his dad is the last person he wants to see in his work environment.
RELATED: Rob Lowe Joins Code Black and More Changes In Season 2
What's their history? It definitely doesn't seem like a happy one.
You're right, it not. His dad was never there for him as a kid. He was drunk, abusive and a horrible role model. Mario holds a lot of resentment towards him because of that. He went his whole life wishing his dad was more involved. I don't think Mario is ready to welcome his father back into his life. He's self-sufficient and he fought hard to get to where he is. He's not willing to let his father undermine his success.
Did you know this piece of Savetti's past during the show's first season or was it all new to you?
[Executive producer] Michael Seitzman had written a very dynamic character arc for Mario in the first season. He was great about filling me in on Mario's troubled past. I knew Dr. Savetti came from a rough upbringing and he wasn't given the same kind of opportunities other kids had. He had to overcome some tough odds and he made something of himself. This gave me the license to play him with an edge that often got Mario into a lot of trouble. When Mario first arrived at Angels he was untrusting and competitive, traits that didn't sit well with his fellow residents, nor the program director, Dr. Leanne Rorish [Marcia Gay Harden]. Throughout the first season Mario learned a lot of lessons that others usually learn from their parents. In a lot of ways, this year we are seeing a more mature version of Dr. Savetti.
What do you think Mario's childhood was like?
Aside from his drunk, deadbeat dad and "coming from the wrong side of the tracks," Mario also had a battle with substance abuse. This was touched on briefly in the pilot episode. It was also the inspiration behind Dr. Savetti's tattoos. Yes, they're not mine! On his forearm is a tat of a crack pipe with a devil genie coming out of it. We assume Mario got this during his teen years while he was using. Above that, on each of my biceps are two religious tattoos; praying hands and the Virgin Mary. Thankfully, Mario was able to pull himself out of his addiction and has been sober for years now. He's turned from junkie to adrenaline junkie.
How was it working with Eric Roberts? Your scenes with him are intense.
Eric is one of the most kind and generous actors I've ever had the pleasure of working with. We play off one another very well. He's incredibly skilled and comes to work with a pure love for storytelling. I really respect that about him. He works an insane amount. You'd think after 30-some years in the biz, he'd be tired and jaded but that's not the case. He is game for whatever you throw at him. Sometimes you click with certain actors. You never know why or how but ever since the first table read Eric and I just clicked.
What do we see in the other story where Mario has an unlikely connection with another patient?
I think Mario constantly sees himself in the most unlikely of patients. Last year it was Ted, an older gay man dying of AIDS. This time it's a transgender woman who wants people to see her as herself and not a label of who she used to be. You'd never know it, but I think Mario is a great listener. Although he may not express just how much he cares, he truly listens to each and every one of his patients. He connects with them, sometimes with only a look.
Will we see more of Mario's father? Or get more of a window into who he is?
I think you'll see more. The window is only slightly opened but there is only one way to know for sure. You've got to stay tuned.
Code Black airs Wednesdays, 10/9c, CBS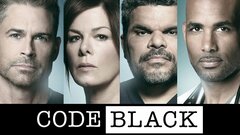 Powered by