'Code Black': Rob Lowe Joins the Cast and More Changes For Season 2
Rob Lowe is joining up and Raza Jaffrey and Bonnie Somerville are checking out, but even more changes are in store at Angels Memorial Hospital for Season 2 of Code Black.
Dr. Campbell (Boris Kodjoe) is chief of surgery and the new head of the ER, "in an effort to combine the administrations and save money," says executive producer Michael Seitzman. That may be good for Campbell but not so much for the now-demoted Leanne (Marcia Gay Harden). "It's what she wanted, because she doesn't want to be an administrator," Seitzman explains, "but she's also offended by it."
RELATED: Code Black: First Look at Rob Lowe as Angels Memorial's New Doctor
Campbell will be juggling his new responsibilities—challenged by Lowe's Col. Ethan Willis, armed with combat-learned techniques that clash with Campbell's by-the-book style. "There's a lot of juicy stuff coming between Campbell and Willis," Kodjoe teases. "We butt heads in every single episode, but it makes for great TV, I'll tell you that."
Kodjoe was glad to delve deeper into his character now that he's a series regular. "When I found out that I was going to be a part of the show, Michael and I talked about slowly revealing different layers. Campbell is a man who has a rich personal life, and we find out [a little later in the season] that he has a special-needs daughter," says the Real Husbands of Hollywood vet.
RELATED: Code Black: First Look at Season 2 Trailer Featuring Rob Lowe
Kodjoe draws on memories of his late physician father to play the conflicted professional. "I grew up watching him move around in hospitals, and it's giving me a very deep emotional connection, which I've never had before," he says.
While Kodjoe's character is gun-shy about romance after being blackmailed by a resident in the Season 1 finale, Seitzman says he and his writers are keeping an eye on the chemistry between Harden and Lowe and hoping to build on that. Promises Seitzman: "There are going to be a number of surprises."
Code Black, Season Premiere, Wednesday, September 28, 10/9c.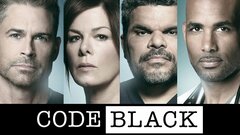 Powered by