'90 Day: The Single Life': The Art of Seduction and a Baby Shocker (RECAP)
Episode 8
Season 1 • Episode 8
[Warning: The below contains MAJOR spoilers for Season 1, Episode 8 of 90 Day: The Single Life].
It's all about intimacy this week as Danielle "vibes" with a new man, and Colt and Vanessa start to call one another boyfriend-girlfriend. Even Big Ed proves he has mastered the art of sEDuction (sorry, we couldn't resist) and takes his relationship with Liz to the next level. Yet of course there are also some missed connections: Brittany kicks Justin to the curb — er, couch — after their courtship turns sour, and Molly is convinced Kelly is hiding a big secret. Let's dive in!
Ed: Big Kiss
It's destination wedding weekend, which means Ed, who's bringing Liz as his date, will finally get a chance to be intimate with his crush. First, though, they have to survive the awkward silences on their long drive. "I brought headphones just in case," Liz jokes to the camera, before announcing to Ed that she gets carsick sitting in the backseat.
Also, there's a "screw up" — Ed swears through a smirk that it's a true mistake by the hotel — that forces Ed to share a king-size bed with Liz, as opposed to their scheduled two queens. "If Ed frustrates me, he's getting the floor," Liz laughs, taking it all in stride.
Ed is giddy to be alone with Liz, and orders champagne, strawberries, and chocolate cake upon their arrival at the hotel. And then Ed goes in for a kiss! At least this time he asks first. Ed and Liz start making out, and even share a smooch before falling asleep while cuddling. Ed even says "I love you" to Liz, but after a cringe-worthy silence, he says, "Just joking." Yeah, sure.
Brittany: Thank You, Next
After Justin's plea for intimacy, Brittany asks him to sleep on the couch on his last night in Houston. "He kind of f**ked himself," Brittany sums up. "I realized we're not really on the same page and I don't want to waste any time if we're not going to be a match."
Justin just can't let it go, calling Brittany super attractive, which means they should hop into bed right away. "I just like being your friend," Brittany says, letting him down easy.
"I just think your guard is super high [because of your ex]," Justin says, defending his ego. "For any man to come in after that, it's tough." Uh, no Justin, it's just you. Brittany is revving to go with Terence! Justin calls his trip "disappointing" and that he had expected "a fairytale" with her. Well, better luck next time.
Colt: Let's Talk About Sex
Colt's confrontation with ex Jess proved to Vanessa that Colt is a worthy partner. She finally accepts to officially be his girlfriend, and we have to admit, they're a perfect match. They even tell one another that they love each other!
Colt shares the news with his mother Debbie, who is overjoyed that Vanessa has won Colt's heart. "She's a strong woman and I think she's good for him," Debbie tells the camera. "Especially compared to Larissa or Jess!" Debbie even asks Vanessa to help spruce up her dating app profile. Colt advises Debbie to keep her potential suitors "guessing" with an air of mystery.
Later, Vanessa asks Colt to go to couples counseling so they can be better partners before diving in with a full-fledged relationship. The new couple discusses trust, triggers, and communication issues. Vanessa brings up the issue of intimacy: Apparently, Colt wants sex all the time, to the point of annoyance for Vanessa.
"Having sex is one of the best things you can do, ever," Colt says with a smile. "I don't understand why having it three, four, five times a day is a bad thing." OK, sure, Colt. Yet he does self-reflect, admitting that he usually jumps from relationship to relationship for fear of being alone. Aw, Colt is all grown up! Could he finally get it right with Vanessa?
Danielle: Finally, a Good Date!
Danielle gets all dolled up for her second blind date on the Ocean City girls' trip. "So far I have not had any success finding the love of my life, but I don't want to give up," Danielle admits. Her mystery man is 12 years her junior, and apparently one of Danielle's friends spotted the suitor near their hotel wearing a handmade COVID-19 face mask that read "I enjoy long walks to the fridge." Guess that makes him qualified to be alone with Danielle on a tiny floating bar. "My first thought was that I'm going to be trapped on a boat," Danielle jokes. She's totally right though!
While her date Sonny doesn't seem on the surface like Danielle's type — he has piercings and a passion for snakes — the two hit it off. "She's cool people, for sure," Sonny says slyly. Danielle can't stop giggling around Sonny and it's clear he may be exactly her type after all. She even offers to make a CD mixtape (can that be a thing?) for Sonny. They leave the tiki boat together, with Sonny offering to share an Uber with Danielle back to their hotel.
Molly: The Kid in Question
Kelly's parting gift to Molly when he left Georgia was dropping the bomb that he wants children. "The good news is, I have two! The bad news is, I have no desire to have more kids," Molly tells the camera. "I made that decision a long time ago, but Kelly doesn't know…I don't want to lose him over that." However, Kelly may already have a kid of his own…
After learning a bit more about Kelly's dating history, Molly Insta-stalked his ex (and we thought we couldn't love Molly more!) only to make an unsettling discovery. Apparently, Kelly's former girlfriend has a daughter who looks identical to Kelly, and her age is the same amount of years that Kelly said he split with the mother. So does Kelly have a child that he hasn't told Molly about?
"If he truly had a kid out there that he didn't tell me about, it would not be excusable," Molly warns. Molly's BFF and business partner Cynthia reminds her that Molly's track record with men hasn't been the best. Perhaps Kelly is just another mistake, but we sure hope not.
Previews
Next time, Danielle hopes to see Sonny again, while Fernanda gives Robbie another chance (yuck). Plus Ed may or may not have gone all the way with Liz, and Colt asks Debbie for her blessing to marry Vanessa! He even has an engagement ring already.
Finally, Molly confronts Kelly in person about the photo of his ex's daughter. Even Kelly seems surprised! We can't wait to find out what the truth is. See you later, 90 Day lovers!
90 Day: The Single Life, Sundays, Discovery+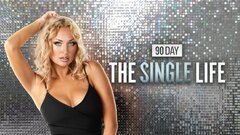 Powered by