'Good Trouble' Cast Teases All the Hooking Up & Drama in the Jam-Packed Season 3 (VIDEO)
It's almost too good to be true, but Good Trouble Season 3 is almost here!
The powerful drama, a spinoff of Freeform's popular 2013-18 series The Fosters, details the adult lives of two foster sisters — justice-seeking legal aide Callie Adams Foster (Maia Mitchell) and software engineer Mariana Adams Foster (Cierra Ramirez) — while also diving into the emotional stories of their new makeshift family at their Los Angeles-based shared living home, the Coterie. It has a multitude of relationships, romantic and otherwise, that leave us on the edge of our seat.
See Also
Plus, 'Everything's Gonna Be Okay' to air on FX, and more.
In the Season 2 ender, Callie and her longtime beau Jamie (Beau Mirchoff) split up, leaving Callie to run "home" to her sister at the Coterie. Mariana, meanwhile, is facing her own slew of romantic drama. After being told that her boyfriend cheated on her with her own roommate, Mariana rushes back to the Speckulate office — and sleeps with her boss, Evan (T.J. Linnard). And don't even get us started on the long-time-coming hook-up between Coterie habitants Davia (Emma Hunton) and Dennis (Josh Pence) that took place in the finale. Season 3 is all about picking up where these relationships left off — for better or worse.
Plus, there's plenty of other non-romantic happenings, too. Social justice warrior Malika (Zuri Adele) faces the intense fallout from breaking her restraining order, and Callie welcomes a new mentor (played by UnReal's Constance Zimmer), among other drama.
See Also
They've blown us away, from Diane Johnson on 'Blackish' to Julia Sweeney in 'Work in Progress.'
"[These characters are] all really strong individuals, who want to make a difference in the world for themselves and for others," teases Ramirez, in the clip above. "You'll see that really be explored this season."
Check out the two-minute featurette above to see Mitchell, Ramirez, Hunton and others tease Season 3.
Good Trouble Season 3 premieres Wednesday, February 17 at 10/9c on Freeform.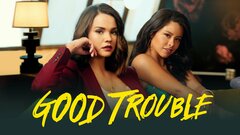 Powered by