'Dancing With the Stars' Host Tom Bergeron on the Ryan Lochte 'Incident' and More
From the moment it was announced in August, Ryan Lochte's stint on Dancing With the Stars was guaranteed to be controversial. It seems everyone has an opinion about the disgraced Olympic swimmer's tall tales about an alleged run-in with police at a gas station in Rio during the Summer Games. But it's safe to say that no one could have expected things to escalate as quickly as they did when protesters rushed the stage following Lochte's very first performance on the ABC show's live September 12 season premiere.
Thankfully, DWTS host Tom Bergeron isn't easily rattled. In his 11-plus years on the show—not to mention another 15 presiding over America's Funniest Home Videos—the reality-TV vet has dealt with everything from woozy contestants to the occasional TelePrompTer snafu. But overzealous protesters? Now that was new! Bergeron talked to TV Guide Magazine about what he was thinking in that tense moment and how he navigates the unexpected on live TV week in and week out, sequins and all.
Let's start with a little word association. If I say the words "Ryan Lochte" to you, what's your reaction?
Well, I think of someone on the road to redemption. It's probably a rocky road to redemption, but one that he has embarked on, and certainly [that recent incident] showed some of the emotions that are involved in navigating that road.
RELATED: Dancing With the Stars: Mary Murphy Gives Her Take on Season 23's Couples
Can you recap what happened from your perspective?
Anybody who's been in the ballroom knows it's noisy. People are cheering or yelling at the judges because they don't like the scores, so the volume wasn't unusual. What struck me as odd, though, was Carrie Ann [Inaba]. I could see that she was getting increasingly upset about something, and then the volume started getting louder to my left. I turned and saw these two individuals coming at us screaming something like "Lochte lies!" And before I could do anything, our security guys had one of them sucking floor. It was pretty quick! I will say that they got further into the competition than [ESPN journalist] Kenny Mayne. [Laughs]
How worried were you about your safety?
I honestly wasn't freaked out. I think the decisive manner in which security stopped it helped me keep my focus on hosting the show. And as a matter of fact, when we came back from the commercial break, I said, "On a personal note, I would just like to thank security for staying in shape." Who could argue with that?
How do you keep calm in unexpected situations such as this or the time Marie Osmond fainted in 2007?
One aspect of it that I've been doing for over 30 years is meditation. In my case, it's TM meditation, which I know Howard Stern does, and Jerry Seinfeld does. It's something that has been a part of my daily life for over 30 years. Plus, it's what good improv is about—really being in the moment and being clearly here and not off dealing with regrets about what happened earlier or anticipating what's happening next. It's about being present. And also about what a friend would think: "Are these people OK? Marie, are you dead or not?"
Do the producers ever warn you or the judges about any concerns they may have when it comes to certain contestants?
Look, over the run of the show, we've had several people who you could say are in the controversial category. But, we have great faith—and it proved to be well-founded—in our security team and what they do for our live show, which is I'm sure what they do for every live show. You don't get in unless you have gone through a metal detector, unless your bag is checked. Now, I think we're probably adding a full cavity search. [Laughs] But that can be optional. You pay extra for that one.
Do you believe Dancing With the Stars is a good venue for certain celebrities to rehabilitate their image?
Yes, and I think it's proven to be over the years. Gail Collins had an op-ed piece in The New York Times, and she lists a number of them, like [current-season contestant Rick Perry] and Tom DeLay, and people like that who've come on with hopes of having another shot at being embraced by the public.
What do you think it is about DWTS that makes that possible?
I think to agree to do the show, you agree to be vulnerable right out of the gate. You're outside of your comfort zone. You are putting yourself in the position of being a student. You're in the position of potentially embarrassing yourself on live television in front of millions of people. There is a vulnerability to that decision that I think is, at its core, fairly endearing.
You've done Dancing With the Stars for more than a decade now. How has it evolved over the years?
I'm constantly in awe of not only the technical differences but the production value too. The show now, just from a pure production standpoint, makes the original seasons look like regional theater. It's just amazing what the visual effects are able to do.
RELATED: NBC Orders Dance Reality Competition from Jenna Dewan Tatum and Channing Tatum
Do you have a personal wish list of future contestants you'd like to see?
Yeah, the No. 1 guy is that retired pope [Benedict XVI]. You know, I think it's been like 600 years since a pope said, "I'm done here. I'm out of here." And what's he doing? I haven't heard anything, so as far as I know, he's got the time. And who would better appreciate a redemption narrative than a former pope?
Can you see yourself hosting this show for another 10 years?
I'm under contract for three more years, so I can certainly see me doing it for that long. I genuinely love the people here. We are, in the work sense anyway, a family of sorts, and we are all very fond of each other. The talent that assembles the show—I'm just the beneficiary of all the work that they do. So for someone that loves live TV, it's an incredible environment.
Dancing With the Stars, Mondays, 8/7c, ABC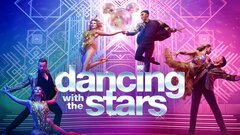 Powered by