'Survivor' Host Jeff Probst on 'Old' GenXers and Surprising Millennials
Considering the theme for the latest season of Survivor is Millennials vs. Gen X, it would be understandable if host Jeff Probst, 54, found himself a tad biased. "I'm a Gen Xer myself, so initially when I saw the Millennials, I was like, 'Look at these cute little upstarts; they have no idea,'" he says.
But that mentality proved to be short-lived. "As the show got going, I realized that it was the Millennials I had the most to learn from. With the Gen Xers, I found myself thinking, 'Do I sound like you guys? Because you guys sound old!'"
RELATED: CBS Boss on Diversity Question: "We Have to Do Better and We Know It"
Welcome to Fiji, where the 33rd round of CBS's reality competition is underway, and the two factions attempting to outwit, outplay and outlast each other might as well be from different galaxies. "The cliché that comes to mind about Millennials—who we're defining as those born after 1984—is that they're entitled, and they grew up getting participation trophies," says Probst, noting that this installment features the series' youngest cast member ever, 18-year-old high school student Will Wahl. "And that's true, but the belief that their voice matters also makes them really powerful."
Meanwhile, the Gen Xers, who range in age from early thirties to 52-year-old elder statesman Paul Wachter, a boat-mechanic-slash-musician, will place a premium on self-sufficiency and dues-paying. "They were raised with the idea that they had to earn everything, and that there's a right and wrong approach to the world," Probst says. "That can come with the tendency to get stuck in their ways and refuse to look at other options."
RELATED: Ask Matt: Survivor's Emmys Snub and More
Of course, eventually the tribes (and their varying skill sets) will have to merge, leaving just one contestant of indeterminate vintage to be awarded the $1 million prize and title of Sole Survivor. Says Probst, "What we've seen from the past 32 seasons of doing this is that anyone—smart, dumb, fat, skinny, young or old—can win."
Survivor, Wednesdays, 8/7c, CBS.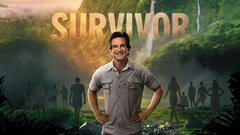 Powered by