'The Goldbergs' Hayley Orrantia on Paying Tribute to 'The Breakfast Club' and Erica's Romantic Woes
The Goldbergs is back and starting with a big episode: a tribute to the John Hughes classic film, The Breakfast Club.
We spoke with series star Hayley Orrantia (Erica) about the latest tribute, how Erica is coping with her newfound feelings for Geoff (Sam Lerner), Bev's (Wendi McLendon-Covey) teaching ambition, the song she's still dying to sing on the ABC comedy and more.
The show is starting off with a Breakfast Club tribute. What can you share about the episode?
It was so fun. I get to play Ally Sheedy['s character, Allison], which if I had to pick a character, that would be my favorite one. I've already seen Breakfast Club a million times. I've been advocating doing this kind of episode on our show. For me, I've been ready to go for a while now. Trying to get her little quirks in and the things that she does has been fun. We love dressing up and paying tribute to big movies we really love. It was a lot of fun on set to work on it. I hope everyone feels that way when they watch the show: it was done well.
Do you approach these tributes in a different way when you know and love the piece of pop culture history versus when it's something you're not familiar with?
Ones I'm familiar with, it's a lot easier. For the ones I don't, there's a lot of research I have to do. There's a lot of big fans of these different movies and songs and TV shows we talk about in our show. And if you don't do it the way they want to see it done, you get a bit of a backlash from fans. We try to be as real and honest to make sure everything is perfect. And Adam [F.] Goldberg, the creator of the show, is really good about making sure everything sounds and feels like the original, because he's such a big fan. We've had good luck in that.
RELATED: First Look at The Goldbergs' Tribute to The Breakfast Club
Looking at the season overall, how is Erica handling the realization she has feelings for Geoff…but he's moved on? Is she doing anything in particular to try and cope?
I'm not sure what the plan is for them by end of the season, but as of right now, it's just a lot of dealing with the fact that she kind of missed her chance. There's a lot of avoiding them in general. There's trying to find another guy. Just try and do things so she doesn't have to think about it.
For the first time, all three siblings are in high school together. How is Erica dealing with both of her brothers at school with her?
Erica has had to deal with Barry for quite some time being only a grade below her, so they've dealt with that forever. But now having Adam in the mix really causes even more drama. Especially because Adam really needs to lean on his siblings for guidance. Erica's main focus is staying popular; she has senioritis and she's ready to get out of there, so the last thing she wants to do is deal with her brothers. It's been pretty fun, in the episodes, dealing with all of the things that come with all three siblings being in the same school at the same time.
How much are we seeing the senior milestones for Erica? In the early part of the year, is there a lot of talk about what college she might be going to?
As of now, they haven't touched with what school I'm going to. It's mostly Geoff. That's been her main thing: her emotional, personal relationship with people. Trying to get through this last year of high school.
Getting through the last year of high school could be extra complicated since Bev decided at the end of last year she wanted to teach. How is that impacting Erica's life?
It is definitely being pursued; it's happening and it's real. The kids absolutely hate it. For Erica, this is supposed to be the easiest year. In her mind, now that she's come to terms with how she feels about Geoff, wanting it to come to light. Knowing she had this easy year where she didn't have to worry about anything. And then her crazy mom steps in to try and make it better, but really ruin all of it. For her, it's really upsetting.
RELATED: The Goldbergs Season 4: Bev Works as a Sub
What are you most excited about this season?
I was always nervous what they were going to do when my character went off to college, but thankfully I don't have to worry about that until next year. We'll see what they do. I'm very curious to see what the writers come up with for resolution to her relationship with Geoff. It's something that's been hinted at for the last three and a half seasons. I'm very curious and I don't know what the end result is going to be. I'm curious: is Geoff going to do his own thing and we'll move on? Or is there going to be a beautiful coming together of friends who are now in love? I don't know! But that's probably the most interesting thing for my character this season.
And will you be doing any more singing this year?
I already have done some stuff where I am singing.I got to do something as part of the Breakfast Club episode. Hopefully they'll continue to give me opportunities to sing and play piano in the show.
I'd love for them to let me do songs I know from the '80s. My favorite one that I keep begging them to let me do is [Whitney Houston's] "I Wanna Dance with Somebody," but so far no word. I will keep pushing that and hope they find a way to slide it into a show.
---

And The Goldbergs fans in the Los Angeles can try a special treat: Katsuya Brentwood now features "The Murray Goldberg Roll"—designed by Adam F. Goldberg in honor of his late father—which has shrimp, snow crab, avocado and cucumber wrapped in soy paper and topped with lobster tempura, tossed in spicy mayo, micro greens and eel sauce.
The Goldbergs, Season Premiere, Wednesday, September 21, 8/7c, ABC.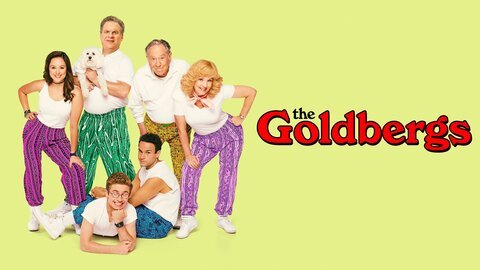 Powered by