Worth Watching: Zooey's 'Celebrity IOU,' Music With the Tabernacle Choir & iHeartRadio's Jingle Ball, 'Race for the Vaccine'
A selective critical checklist of notable Monday TV:
Celebrity IOU (9/8c, HGTV): The home-improvement network's highest-rated first-year show ever is back with the first of four new episodes, in which famous folk give back to their nearest and dearest with home renovations, working alongside twin HGTV icons Drew and Jonathan Scott. First up: New Girl's adorkable Zooey Deschanel, who seeks to do something special for her childhood bestie Sarah, a therapist and mom of two. With the Scotts' help, Deschanel helps transform Sarah's 900-square-foot home into a modern open concept. In weeks to come, This Is Us star Justin Hartley, Mom's Allison Janney and The Office's Rainn Wilson will cash in their own IOU's.
Christmas with the Tabernacle Choir (9/8c, PBS, check local listings at pbs.org): The fabled 360-member choir is in good company for the annual holiday concert, filmed in 2019 at Salt Lake City's 21,000-seat Temple Square auditorium. Tony winner Kelli O'Hara is the featured musical guest, singing a Rodgers & Hammerstein medley including "I Whistle a Happy Tune" from The King and I (which won her a Tony), South Pacific's "A Cockeyed Optimist" and The Sound of Music's "My Favorite Things." Later, she gets more seasonal with "A Cradle in Bethlehem" and "Angels from the Realms of Glory." Her co-star, The Waltons icon Richard Thomas, reads from Pearl S. Buck's "Christmas Day in the Morning." (A fuller 90-minute version of the special airs Thursday on BYUtv).
iHeartRadio Jingle Ball Presented by Capital One (8/7c, The CW): It's still 2020, so this year's annual yuletide rock concert goes virtual, but the talent is as fresh as ever, with Billie Eilish, Dua Lipa, Harry Styles, Sam Smith, Shawn Mendes and Doja Cat among the headliners. Mariah Carey, BTS and Lil Nas X are among those making special appearances, because who wouldn't want to be part of this scene, even remotely?
A Suitable Boy (streaming on Acorn TV): A new suitor for Lata (Tanya Maniktala) emerges in the third chapter of the delightful adaptation of Vikram Seth's novel, set in 1951 India. Haresh (Namit Das) is a shoe manufacturer, proudly telling his new acquaintance: "The British left us free, but barefoot. India needed shoes." Neither as dashing as her student beau Kabir (Danesh Razvi) or as glib as the well-to-do poet Amit (Mikhail Sen), Haresh has an innate decency and enterprising spirit that could make him more than a suitable mate for Lata. At least that's what her mother thinks. Elsewhere, the obsessed romantic Maan (Ishaan Khatter) is sent with a tutor into the countryside, where he inadvertently becomes a local hero when he intervenes in a feudal dispute.
Also new to Acorn: the French drama Réunions, about half-brothers who meet after the death of their father, jointly inheriting a hotel on the exotic island of Réunion. All isn't paradise when they discover the hotel is about to go bankrupt.
The Shot: Race for the Vaccine — A Special Edition of 20/20(10/9c, ABC): With new headlines daily about vaccine approvals while the infection and death rates from COVID-19 continue to soar, ABC News weighs in with a timely report on the nearly year-long rapid response to develop safe and effective vaccines, addressing the public's questions about access and safety. Among those interviewed: Dr. Anthony Fauci, FDA Commissioner Dr. Stephen Hahn, Operation Warp Speed COO General Gustave Perna, philanthropist Bill Gates, and numerous vaccine experts.
Inside Monday TV: Calvin (Cedric the Entertainer) and Dave (Max Greenfield) go on their first road trip on CBS' The Neighborhood (8/7c), and does anyone expect the ride to be smooth?… The final singers compete in the live finale of NBC's The Voice (8/7c), with a winner to be announced Tuesday… Lifetime's holiday movie Lonestar Christmas (8/7c) stars Stephanie Bennett as a single mom who heads to the family ranch in Texas in hopes of reconciling with her estranged dad, finding love along the way with a local restaurateur (Marco Grazzini)… Just renewed for a second season, HBO's financial drama Industry (10/9c) revs up for that treacherous event of the annual office holiday party, where tensions inevitably erupt… It's not exactly a jolly holiday on CBS's Bull (10/9c) either, when Bull (Michael Weatherly) and Benny (Freddie Rodriguez) represent co-worker Marissa (Geneva Carr) and her soon-to-be-divorced husband Greg (David Furr) in federal court on fraud and money-laundering charges connected to Greg's restaurant business.
Powered by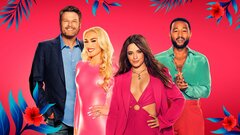 Powered by