'The Voice' Unveils Top 9 — Watch the Wildcard Performances (VIDEO)
The Voice has a Top 9 for Season 19 as the Top 17 results provide a path to potential victory for the remaining hopefuls. (Follow all that?)
The evening begins with host Carson Daly revealing the results of America's vote and informing coaches Kelly Clarkson, Gwen Stefani, Blake Shelton, and John Legend of the first team members who are safe. Once the vote is confirmed, it's up to the coaches to decide who else moves on from their team.
See Also
The competitors sing some blazingly hot showstoppers, and one bows out.
Team Kelly kicks things off with Desz earning America's vote, while Cami Clune gets her spot thanks to coach Kelly, who chose to keep the young pop songstress. Team Gwen is next and young performer Cater Rubin is an unsurprising shoo-in, while Gwen goes the country route with her personal pick of Ben Allen.
Team Blake's member moving on include Ian Flanigan, who took America's vote, as well as Jim Ranger, who the coach chooses to keep. As for Team Legend, John Holiday is the winner of America's vote for his high-pitched vocals and John sticks with the powerful singers by choosing Tamara Jade as the eight hopeful in Season 19's Top 9.
In order to determine the ninth artist advancing, the show begins its Wildcard Instant Save round by weeding out four more performers from the remaining pool of contestants in jeopardy. At this point viewers are bidding on Madeline Consoer (Team Kelly), Joseph Soul (Team Gwen), Chloé Hogan (Team Legend), and Team Blake's Taryn Papa and Sid Kingsley.
This means that the four vying for the Wildcard Instant Save include Tanner Gomes (Team Kelly), Payge Turner (Team Gwen), Worth the Wait (Team Blake), and Bailey Rae (Team Legend). Their moving performances are left in the hands of viewers as votes will determine the fate of these artists. Below, see the moving performances and find out who rounds out the Top 9.
See Also
We also look to see how they fare against last seasons' finales.
Worth the Wait Sings Martina McBride's "I'm Gonna Love You Through It"
Payge Turner Performs Rihanna's "Diamonds"
See Also
As the NBC show swaps Gwen Stefani and Nick Jonas, again, see which recording artists have coached 'Voice' contestants the longest.
Tanner Gomes Sings Keith Anderson's "Pickin' Wildflowers"
Bailey Rae Performs Lee Ann Womack's "Never Again, Again"
In the end, Bailey Rae gets America's vote, rounding out the Top 9. Catch them perform next week on NBC.
The Voice, Season 19, Mondays and Tuesdays, 8/7c, NBC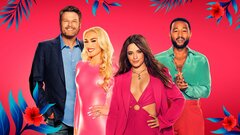 Powered by