Christina Tosi on the 'MasterChef' Finale and How Her Green Juice Keeps Her Balanced
Will the best cook win? Or was she sent packing weeks ago? Season 7 of MasterChef concludes September 14 after a summer of high stress, stunning screwups and gag-inducing ingredients (chicken feet, anyone?). Judge Christina Tosi—the cool, nurturing yin to Gordon Ramsay's hot, irascible yang—hints at the $250,000 grand prize outcome.
Will the announcement of the winner leave us satisfied—or throwing heirloom tomatoes at the screen?
The season finale is raw and beautifully intense, but then the entire season has been unusually emotional. It's been hard on the judges because so many incredible home cooks suddenly got flighty. We had to say goodbye to [Miami college student] Andrea Galan, who I thought would win the whole thing. She was so focused that she forgot to focus, and it was heart-wrenching.\
RELATED: MasterChef: Gordon Ramsay on Guest Judges, Firefighters, and Other Season 7 Surprises
Why so many meltdowns?
It's the pressure, the self-doubt. When we do MasterChef Junior we always tell the kids to have fun and take risks. And they do. But you can't tell that to the adults. They're like, "Are you ca-raaazy? I left my job to be on this show! My mommy's not gonna tuck me in at night if I don't win."
Sometimes you love a dish and Ramsay or one of the guest judges absolutely hates it. Does that make you wonder, "Am I insane?"
Never. [Laughs] I always think they're the crazy ones. We laugh about it off camera. I'll tell Gordon: "Dude, your quality-control standards have dropped! Have you been eating your grandma's porridge?" But there's nothing wrong with differing opinions. Not everything is indisputably wonderful, even in the most acclaimed restaurants. When you try to make food people will kill for, there is always controversy and complaints.
RELATED: Curtis Stone on Making a Moveable Feast and His Recipe For Smoked Lamb Ribs
You have no problem cooking with prepackaged food—from Nutella to Froot Loops, it's all fair game with you. Wouldn't most other chefs be aghast at that?
Maybe, but in the food world, there's nothing worse than a chef whose ego gets in the way. I was mentored by the great James Beard Award winner Wylie Dufresne, who is all about flavor, and I remember trying to perfect a peanut butter halva recipe. I spent months making all these different peanut butters from scratch until Wylie gave me the most powerful piece of advice. He said, "We're here to give the people the most delicious food possible. If that means making it with Skippy, then make it with Skippy!"
---
Hard Body Green Juice
Tosi serves this high-vitamin, low-cal beverage in her popular Milk Bar bakeries in Manhattan and Washington, D.C. "It's like drinking a salad," she says. "Everyone who works with me is a crazy person in constant pursuit of balance. We're eating cookies and house specialties like crack pie and overdoing it on pizza­—and then we counteract it with Green Juice. One serving and you are ready to crush the day."
Makes 12 fl. oz. juice
Ingredients
½ cucumber
3 celery stalks
3 kale leaves
2 handfuls of organic baby spinach
1 apple (Granny Smith or Fuji are my favorites!)
½ lemon
Directions
Combine all ingredients in a juicer. Serve fresh.
MasterChef, Season Finale, Wednesday, September 14, 8/7c, Fox.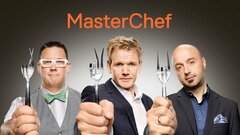 Powered by