'Vice Principals': Walton Goggins on Dropping F-Bombs With Danny McBride
What happens when school officials are more immature than the students? In HBO's Vice Principals, Neil Gamby (Danny McBride) and Lee Russell (Walton Goggins) go apoplectic when they're passed over for a promotion in favor of a new principal. Goggins—last regularly seen on FX's Justified—dishes on the raunch and rancor.
What is working with Danny McBride like?
I have admired him and been a fan of his for the better part of a decade. The greatest thing to come out of this is the friendship that was made. I really consider him a brother and think the world of him. It was all I wanted it to be and then some.
How is doing physical comedy for you?
Doing comedy can wear a motherf—er out! [Laughs] It's a lot of energy, but the writing was so good. [The writers] tend to make dramas that happen to be very, very funny.
RELATED: HBO Confirms Game of Thrones End, True Detective's Future, Deadwood Film Update
How many of the show's multiple F-bombs are ad-libbed?
Once you understand the parameters of someone's behavior when no one's watching, that allows you to improv in their voice. So much of Lee Russell is a binary existence, in the sense that what he shows people publicly is very different than what he shows people privately.
Should Lee actually be principal?
I don't think Lee should be principal of anything! Having a title, they believe, would bring them the respect that they haven't earned on their own merit. Hopefully over the course of this show, they will earn that right.
Vice Principals, Sundays, 10:30/9:30c, HBO.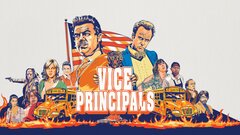 Powered by