'90 Day Fiancé: The Other Way': In-Law & Disorder (RECAP)
[Warning: The below contains MAJOR spoilers for Season 2, Episode 19 of 90 Day Fiancé: The Other Way.]
It's all about in-laws this week as these couples grapple with familial forces outside their relationship. Deavan bonds with Jihoon's mother, but Melyza still butts heads with Tim's mom. At last, Ariela's parents arrive in Ethiopia to meet their new grandson, yet it's clear Biniyam might not live up to their expectations. Brittany lands in Jordan but thankfully doesn't have to deal with her future extended family just yet. Not all in-laws are created equal, it seems.
Toxic Travels
Brittany still has second thoughts about traveling to Jordan to see Yazan. While in the car to the airport, she explains that she's not planning on spending time with him, but rather wants it to be a "girls trip" with her friend who is meeting her there. "We are going to explore the Jordan that we want to explore. We are just going to have fun with it," Brittany tells the camera.
Before boarding, Brittany has one last update about her relationship with Yazan. "I'm not going to see Yazan. I refuse. I don't want to be with somebody who yells at me and treats me like that," she stresses. "This is too toxic for me and I don't have time for that. As far as I am concerned, Yazan and I are done."
Paranoid Parenting
Two weeks after giving birth to her son, Ariela is settling into life as a new mother. Biniyam has been working nonstop to provide for his growing family, but she feels lost without his support.
Biniyam's sister Wish and family friend Artemis stop by to visit with Ariela and her baby Avi. Artemis and Wish both flame Ariela's doubts about Biniyam's fidelity, describing the club where he works as "filled with beautiful people" and reminding her that he met his ex at that same job.
"I like Wish but we have kind of a tumultuous relationship," Ariela says in a confessional. "Right now it seems like she's messing with me and trying to make me jealous. I don't know why she would do that…I'd have to be stupid about my boyfriend working around other women all the time."
A Loss
Deavan announces that her marriage to Jihoon has been going well recently, but she then opens up about some shocking news.
"A few weeks ago we found out I was pregnant again," she states. "And at first I was really scared. We just barely had Taeyung and we are definitely not financially stable for another one. But then I got really excited, stuff happens for a reason. A baby is always a blessing. I was accepting it and ready to do it.
"However, we did get some devastating news recently. When I went to a check-up and they did an ultrasound, that's when they figured out we had lost the baby. We had a miscarriage…It was the hardest thing in my life."
Jihoon makes seaweed soup for Deavan's recovery, and she opens up about the sadness surrounding her loss. He shares his grief and offers to help her in any way he can.
"I feel like we're much closer," Deavan tells Jihoon. "It also made me realize how much I love you, because you've been there for me, you're very supportive of me."
Deavan acknowledges their recent petty fights have not been worth it and they love each other more now than ever.
In-Law Arrivals
Tim and Melyza pick up Tim's mom Robin and his aunt Karmyn at the airport in Colombia. Robin has her own reservations about Tim and Melyza's relationship and immediately asks how they've been doing since moving in together. Melyza glosses over any real updates and says she just needs more time with Tim. Melyza also opts to stay with her parents while Robin and Karmyn are in town.
After Melyza leaves, Tim confronts his mom over her previous threat to call the police on Melyza in the U.S. during an argument about his infidelity. "I'm hoping my mother coming here is an opportunity for her…to talk things out with Melyza because I know they both love each other," Tim remains hopeful to the camera. "But ultimately I don't know how this is going to turn out until we start talking about the issues at hand."
Pause on Plans
After his divorce was finalized, Sumit starts planning the ring ceremony with Jenny. The traditional custom is essentially a formal engagement party, and the couple begin listing the guest list. Yet when Jenny broaches the subject of Sumit's parents, he balks and confesses that his parents still don't approve of her.
"I'm not going to let anybody stop us getting married," he promises.
A few days later, the coronavirus has hit India. "I am diabetic and Jenny is old," Sumit explains. He understandably is worried about the health risks.
Jenny FaceTimes her daughter, and they cry together about being apart. Jenny and Sumit are also shown playing games during quarantine to pass the time. "We swore nothing was going to stop us this time and then BAM! Everything is put on hold," Jenny tells the camera. "The uncertainty bothers me, of course, because my visa is going to expire. I can't leave the country so the only thing I can do is just keep hoping they're going to keep extending my visa. We just kind of have to sit it out and wait."
What's Your Number?
Biniyam prepares for Ariela's parents' arrival in Ethiopia. He fixes the toilet seat in their apartment while Ariela opens up about her trust issues, including going through Biniyam's phone after he gets back from work.
"If I have to tell her everything, my love for Ari will go smaller," Biniyam confesses to the camera. Ariela threatens to call the numbers in Biniyam's cellphone and tell every woman who answers that she is his girlfriend and just had their baby.
Arrivals and Departures
Brittany lands in Jordan, and Yazan arrives at the airport to pick her up. There is some miscommunication and avoidance, and ultimately Brittany gets into a taxi cab instead of Yazan's car. It's unclear whether Brittany purposefully chose not to contact Yazan, or if he even told her that he was there.
Brittany also checks into a hotel. Yazan angrily drives away, calling himself an "idiot" for even going to the airport in the first place.
See Also
Amid news of Deavan and Jihoon's divorce, an update on where the rest of the TLC spinoff's pairs are now.
Let's Talk About It
Tim, his mom, and Melyza go out for beers. Robin asks if Melyza feels awkward around her, but doesn't apologize for her actions. Tim brings up the fact that Robin told Melyza she wasn't good enough for him, and Robin sidesteps the topic. "I think what I was trying to convey was just that if you're really, truly unhappy and you don't think you can rectify that, then maybe it's time to move on," Robin clarifies.
Tim knows that neither Melyza or Robin will apologize for the past situation, but Robin keeps repeating that she just wants them both to be happy. Melyza, though, is satisfied with the discussion. "I definitely appreciate that she reassured me that she actually loved and respected me, even though she kind of dances around saying sorry," she concludes.
Surprise Work Shift
Biniyam goes to pick up Ariela's parents from the airport, while Ariela and Avi move into the hotel temporarily to be near them. Biniyam springs on her that he is working later that night and can't spend time with her parents. This will be the first time he will meet Ariela's father.
"Hearing him tell me that he needs to work tonight after he already promised that he wouldn't makes me feel like he doesn't give a s**t. Maybe I should be more suspicious," Ariela says in a confessional. Biniyam swears he just forgot.
Breakthrough Bonding
Deavan and Jihoon's mother go to a museum. While they still have some translation issues, Deavan's mother seems to be having a great time. Eventually, Deavan discusses her miscarriage with her mother-in-law, who comforts her.
"I am a woman too, and I think you are courageous," Jihoon's mother tells Deavan. "You've gone through some hard times. But if you are patient, I think good things will happen."
"The only reason I'm handling it so well is because you and your husband have helped so much. I feel like without you guys, I would have been at a breaking point, emotionally," Deavan thanks her. "It's starting to feel like a real mother-in-law, daughter-in-law relationship."
"Walking Into a Tornado"
Brittany's friend Angela arrives in Jordan and the two toast to new adventures. Angela admits that she is surprised to not see Brittany with Yazan. "I am definitely thrown for a loop. I came to Jordan to meet Yazan but now it just seems like I walked into a tornado," Angela tells the camera.
Brittany and Yazan have a tense FaceTime call, but she refuses to bury the hatchet with him just for the sake of Angela's visit.
See Also
In 'HEA Strikes Back!,' the couples will have a chance to respond to 'Pillow Talk' commentaries and social media fan criticisms.
Meet the In-Laws
Back in Ethiopia, Biniyam greets Ariela's parents at the terminal, with roses in tow. Biniyam makes a good first impression with Ariela's father, and Ariela's mother can't wait to see new grandson Avi.
Ariela is more than excited to see her parents there. Biniyam awkwardly announces that he has to work that evening, and while Ariela's mother tries to give him the benefit of the doubt, Ariela tells them that Biniyam purposefully chose to work.
"My parents just flew 24 hours to meet him and to meet our new family and now he's just going to leave. I'm embarrassed. I think it makes him look like a jerk," Ariela says to the camera. "It's really important for my dad to like him…If things don't go well this week, it will make me question my choices."
Drunk Dial
The next day, Brittany and Angela go out to explore. They eventually wind up at a bar, and Brittany explains that alcohol is legal in Jordan, but just against religious rules for certain practicing families like Yazan's.
Brittany gets tipsy and cries that she misses Yazan. She calls him, and the two make up over the phone. Yazan says he's on the way to pick up Brittany and Angela, but Angela is worried that Yazan will get angry after seeing that Brittany has been drinking. "I am praying that I will not be caught in any crossfire," Angela somewhat jokes.
Previews
Next week, Deavan's family arrives in Korea, much to Jihoon's dismay. Armando and Kenneth deal with another marriage license denial, and Tim tells his mother that Melyza was dating other people after he cheated. Plus, Biniyam's sisters insult Ariela in front of her parents, and Sumit confides in his brother that he and Jenny are getting engaged. Jenny heartbreakingly cries that she can't help how old she is and hopes that Sumit's family will stop trying to tear them apart.
Until next time, 90 Day fans!
90 Day Fiancé: The Other Way, Sundays, 8/7c, TLC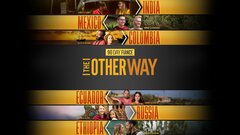 Powered by