'90 Day Fiancé: The Other Way': Tired of the Lies (RECAP)
[Warning: The below contains MAJOR spoilers for Season 2, Episode 18 of 90 Day Fiancé: The Other Way.]
The women are tired of the lies this week as Ariela calls out Biniyam's control issues, Melyza prepares to confront Tim's mother, and Brittany clashes with Yazan. Of course, Deavan shares her very biblical approach to self-pleasure, leading to her lecturing an embarrassed Jihoon over downloaded porn. It is just as cringe-inducing as it sounds, perhaps even more so than the cries of Ariela's newly-circumcised baby. Let's dive in.
Hospital Meltdown
Biniyam deals with the aftermath of Ariela taking their son out of the hospital and interrupting the circumcision. He calls her actions "inappropriate" and disrespectful before finding her nursing the baby in the parking lot.
"I'm tired of you being mean to me," Ariela cries to Biniyam. "I just don't feel like hearing whatever mean thing you have to say…It's my baby!"
Biniyam criticizes Ariela for only thinking about herself, an unfair accusation a mere six days after giving birth. She says through tears that she feels pressured by Biniyam nonstop.
"I don't give a s**t about your stupid feelings of masculinity," Ariela fires back as Biniyam insists their son needs to undergo the procedure that day. "I really need from you that I can't take any more stress."
Finally Biniyam agrees that they can go home.
Girls, Girls, Girls!
Jihoon introduces Deavan and their children to his school friends. While she voices her disdain for tents at a park in Seoul ("In America, it means a place where you can get free meth"), he is nevertheless excited for her to meet his pals.
Deavan admits to Jihoon's friends that she might not be staying in Korea after apparently seeing some questionable images on Jihoon's phone. "Jihoon, he had saved images of girls, like selfies of naked girls everywhere on his phone. And I'm trying to understand if that's normal here," Deavan asks, causing more drama than necessary.
"Doesn't everyone look at that?" one of Jihoon's friends jokes in Korean.
Deavan is more worried about the fact that the photos were selfies and seemed to have been sent directly to Jihoon. "I'm just at the point where I need to know if he's been faithful or not," she continues. Meanwhile, Jihoon is changing their son's diaper away from the group and hasn't heard any of this conversation. Jihoon's friends stick up for him, but Deavan still believes Jihoon is hiding something.
Finally Free
Sumit prepares to go back to court to finalize his divorce. However, he will have to convince his parents to give their blessing for him to marry Jenny. Sumit connects with his father before appearing in front of the judge. His father had crowdfunded the additional $10,000 for Sumit to settle the divorce.
While cameras were not allowed in the courthouse, Sumit appears five hours later to call Jenny. He shares the good news: "Finally I'm free!" The divorce has been finalized, and Sumit can focus on building a new life with Jenny.
Instagram vs. Real Threats
Back in Jordan, Yazan opens up about neighborhood gossip. His family has been spreading rumors that Brittany and Yazan are already living together, have secretly wed, and are having sex. Most importantly, Yazan fears that his parents actually believe these lies.
Yazan asks his younger brother Obaida to meet up. The two embrace in tears. Obaida does agree that Yazan deserved to be kicked out of their family home for "what he did" with Brittany. Yazan asks for Obaida to organize a sit down with their father so Yazan can convince him of his innocence.
"Talk with him and tell him, 'Father, Yazan is a man. Yazan is not going to behave in any way that will upset our God,'" Yazan pleads. "He raised a human being who fears Allah and who knows how to behave."
Obaida agrees to speaking with their father. Later that day, Obaida talks with his dad, who shows him Brittany's bikini-clad social media posts. "Everyone is talking, saying that they are humiliating us," Yazan's father says to the camera. "They are saying that your son has dishonored us."
Yazan's uncle has also been spreading the lie that Brittany "acts in porn films" and Yazan "cleans up after her." Yazan's father tells Obaida to inform Yazan that if he marries Brittany, he will kill him.
"I'm telling you and I'm warning you. I will be his murderer," Yazan's father states.
See Also
Amid news of Deavan and Jihoon's divorce, an update on where the rest of the TLC spinoff's pairs are now.
Monster-in-Law
Tim is still trying to come to terms with Melyza's other relationship, but his mother Robin and aunt Carmen are visiting Colombia in the midst of their drama.
"I wouldn't say Robin is coming to visit at an ideal time because we're trying to rebuild the trust and to work on our relationship," Melyza explains in a confessional. "I know that she has some reservations with him moving to another country and continuing the relationship with me, so I don't know how that's going to be dealt with."
Melyza remembers that Robin has told her that she is not good enough for Tim. She describes their relationship as "passive aggressive," especially after Robin was present for an intense argument with Tim. Robin threatened Melyza that she was going to call the police on her during a fight, which Melyza says led her to "lose a lot of respect" for her potential mother-in-law.
Seeking a Marriage License
Kenneth and Armando plan to apply for a marriage license. Armando had received a letter saying that they had to disclose more information since they are a same-sex couple. "A heterosexual couple doesn't have to do this type of letter," Armando explains to Kenneth, citing his fear of government "road blocks" to their nuptials.
"Same sex marriages in Mexico have been legal since 2015, but I have read articles that same-sex couples have had trouble getting their licenses approved," Armando opens up to the camera. "Gay marriage in Mexico is still looked down upon, because the culture is not as accepting as it is in the U.S. In some ways it's like we're back in time…I am worried about this being a difficult process."
Kenneth jokes that they'll have to give them a license because they are such a cute couple. Yet Armando is still anxious.
See Also
Ariela gives birth to her son, and Armando starts a new family with fiancé Kenneth and daughter Hannah.
Crying Shame
Ariela feels pressure from both her own family and Biniyam to have their son Aviel circumcised that day. Thus, they return to the hospital again against Ariela's will.
"I really don't want to see my son suffer, and I don't want to be the cause of his suffering," she stresses in a confessional. "I'll never forgive myself for doing this."
Ariela hyperventilates after hearing her son's screams during the procedure. "It's not OK, it's so f**ked up," she cries.
Dangerous Sacrifices
Obaida returns to tell Yazan their father's message. "Now my father has threatened me," Yazan summarizes. "He has a family to protect…If I disgrace them, they will disown me."
Obaida seems to side with his father and urges Yazan to break it off with Brittany, unless she is willing to "lose her old life." Yazan promises to do the "impossible" to continue their relationship even if it destroys his life in Jordan.
"I just need to prove that my decision is correct," Yazan tells his brother. "I know the amount of danger that I'm in."
Head in Hands
Deavan confronts Jihoon over traditional Korean tea. "I noticed that you were looking at naked girls," she starts. He starts laughing before she scolds him. Jihoon states that he only downloaded models' photos from online and they were not sent personally to him.
"You have a wife. Why do you have to look at other naked girls?" Deavan presses.
In a confessional, Jihoon admits that he and Deavan do not have sex often: "I use just my hand," he smiles. "When you sleep, I'm just…yeah. This is embarrassing."
"Masturbating to other women, that in my head is cheating," Deavan says. Um, what?
"To me, I consider anything that hurts the other person to be cheating," Deavan flimsily explains to the camera. "And he was looking at these photos while I'm standing right there. It's like, have some decency, I'm your wife. I'm right here, look at me."
Deavan further tries to leverage Jihoon's masturbation into infidelity, asking if he was physically with any other women while they were married. Jihoon swears that he never touched anyone else but admits to have cheated before in a past relationship after his girlfriend abstained from sex for two months.
"That's really worrying me. We've spent longer time apart than that," Deavan separately frets. "His past is way worse than any naked photo. Now my concern level went from 80 percent to 120 percent."
No Blessing
In contrast, Sumit celebrates his divorce with his father and his friend. Sumit promises his dad that he plans to pay back the $20,000 loan, but he hasn't been able to work full-time since Jenny is worried about being alone at home.
"Now I can finally think about working because I have to pay you money as early as possible," Sumit explains to his father, post-divorce.
Sumit's dad still doesn't approve of Jenny and tells the camera that she cannot give Sumit a family. His parents state that they will not accept Jenny into the family if Sumit marries her.
Friends First
Brittany prepares to leave Florida to go back to Jordan. Her dad voices his own concerns about Yazan, citing the family drama last time she visited. "There are so many factors and red flags there and I'm really concerned for her," Brittany's father tells the camera.
Yazan's family is expecting Brittany to return to Jordan with her dad so she can marry Yazan. Brittany opts instead to bring her friend Angela to test the waters before having her family fly out for a wedding.
Next Steps
Biniyam tries to console Ariela after Aviel's surgery, but Ariela is more worried about Biniyam's overall lack of empathy for his son's pain. Looking ahead, Ariela also hopes that they can start to compromise.
"How Many Fights Are We Going to Have to Fight?"
Armando and Kenneth meet with the civil registrar, and after a very quick appointment, the registrar gives them a "negative answer." Armando asks why not if same-sex marriage is legal.
"In this case, we have a law that states, 'no, you can't," the registrar explains. "And we have a constitution that says, 'yes, you can.' Sadly, we don't have legislation that supports us to reform our code. The one that says we still can't allow same-sex marriage to go through."
Armando translates to Kenneth and confirms the law isn't fully approved. "I'm really not understanding all she's saying because things seem to contradict each other," Armando admits.
"I don't even think seven words were spoken and it was denied," Kenneth says.
The registrar advises them to go to the Human Rights Commission to file a complaint that their basic human right of marriage was denied. "I am certain that they will get a positive response," the registrar explains to the camera. "Yes, it's taking longer than it should for a straight couple. So, I would like to help them so they get a positive response faster."
Kenneth voices his rightful frustration alongside Armando in a confessional. "I don't want to have to fight a freaking war to marry someone I love. It just makes no sense to me," he states.
Armando is more hopeful after securing the registrar's assistance. Yet Kenneth points out that this discrimination is still prevailing. "The marriage license may be a challenge to get and we may have to fight for it, and I'm thinking, 'What about when we pick our venue? Is that going to be a problem because we're a same-sex couple?'" Kenneth questions. "How many fights are we going to have to fight?"
See Also
In 'HEA Strikes Back!,' the couples will have a chance to respond to 'Pillow Talk' commentaries and social media fan criticisms.
Damage Control
Brittany says goodbye to her father and heads to the airport. Yazan texts her saying that he wrecked a car he purchased for her in Jordan. "He crashed his car and somehow he's saying that it's my fault," she explains.
Yazan sends Brittany a voice memo and yells at her for wanting a comfortable life in Jordan. His messages don't make sense and seem to be just another reason for Yazan to threaten a break up.
Brittany finally just calls Yazan directly to clear the air. He says that she threatened to not marry him, and she responds that he's just selfish. "I'm really, really tired of it," Brittany tells the camera. "It's becoming clear to me that Yazan may never change…I'm not getting on that flight."
Previews
Next week, Sumit plans a ring ceremony with Jenny to become officially engaged. Tim's mom arrives in Colombia and encourages them to split up. Brittany does choose to travel to Jordan and is anxious to see Yazan again. "I'm not looking for anything but the exit," she states. Later, Biniyam and Ariela deal with trust issues over his work schedule.
It seems more cheating allegations and family threats await next time!
90 Day Fiancé: The Other Way, Sundays, 8/7c, TLC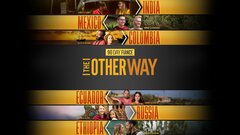 Powered by