Meddling Moms Shake Up Relationships in 'I Love a Mama's Boy' (VIDEO)
TLC's compelling new love and relationship series features a new family dynamic: a son, his significant other and his most significant mother. Follow along as moms with no boundaries coddle, spoil even, in one case, spoon feed their sons in I Love a Mama's Boy, premiering Sunday, October 25.
How close is too close? Cringe-worthy moments happen when mom stands between the couples' true love and romantic crisis as these young women hope their man will cut the cord.
Meet the four love triangles in this competition for affection:
Kim (25), Matt (28) & Mom Kelly (56)
Matt is a Mama's Boy who will never tell her to but out. He lives in his smothering mother's house and has brought Kim to live there as well, much to the detriment of their sex life. The next step is to build their own home but there may be a misstep as the location is in Kelly's backyard. How long will Kim date Matt and his mom?
Stephanie (25), Mike (25) & Mom Liz (49)
"His mom has to like me before we get engaged because she is gonna make the final call," Stephanie complains. To which Liz cries, "You really need to take my son away from me?" Mike is pulled by two forces, but whose love is greater?
Emily (24), Shekeb (30) & Mom Laila (61)
In the two years they have been dating, many conflicts have occurred between Emily and Shekeb's mom, Laila. Emily wants Shekeb to move out of his parent's house so they can start their life together, but he doesn't want to upset his mother because, as Laila says, "Momma gonna die."
Justina (26), Jason (28) & Mom Annette (49)
The only couple to be engaged, Justina is planning her wedding to Jason. But she is hindered by overbearing mom Annette who insists her son not cave-in to what Justina wants. Will Justina end up with the wedding of her dreams, or will she be bulldozed into accepting her future mother-in-law's vision instead?
I Love a Mama's Boy, Series Premiere, Sunday, October 25, 10/9c, TLC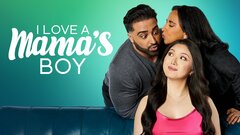 Powered by