WWE 'Raw' Superstar Bobby Lashley Explains Why It Pays to Be in the Hurt Business
The Hurt Business has been good for Bobby Lashley in WWE. Ever since the 44-year-old joined up with MVP, Shelton Benjamin and new member Cedric Alexander, things have been looking up for the dominant performer.
This translated into winning the United States championship from Apollo Crews at the Payback pay-per-view. Lashley can trace the initial trio's bond back to when he started in WWE around 15 years ago.
"When MVP came back, we went out to eat a couple of times. We talked about how the locker room has changed," he said, describing the origins of the new faction. "I came up with the Hurt Business a while back because my fight team American Top Team. The boxing coach there was always wearing Hurt Business shirts. I loved those shirts. Then I thought about when I first started I had Booker T., Finlay, William Regal, Umaga, JBL, Hardcore Holly. These are all the guys I had to fight when I first came in. Those people protected the business and brought the pain and hurt.
"When I came back to WWE [in 2018], that was one thing Shelton and MVP and myself talked about. The way we were brought up. We want to bring that style back. The hurt style. You have everything you could want in wrestling. But you still have those fans who want someone to throw down. That's what we are here for. We are trying to take some of these young pups and beat them down as a way to bring them up."
Here Lashley, who is also a standout amateur wrestler and Bellator MMA standout, talks about why business is booming for him on Raw.
The Hurt Business has been getting compared to the Nation of Domination. A group in the 1990s which is becoming a hot topic of conversation again. How do you feel about that?
Bobby Lashley: I loved those guys including Ron Simmons. If you watched my career, a lot of things I picked up from him. He was amazing. So was Mark Henry. I loved the Nation across the board. Though think people are comparing us because it's three black guys, which is not a bad thing. Nobody is trying to take that away. However, the one thing that is different I think is we are in a sensitive environment and atmosphere. So, I don't think the Nation is something we want to portray. We also want to make abundantly clear that it's not a black and white thing. If you see the guys we've been beating up on the show the past few months, it was Cedric [Alexander], Ricochet. We don't care about black, white. We're about the green.
All of us are pretty much in the last stages of our career. After this run we may retire. Two, three, four years down the road. You never know. And if we do, we want to set out our claim right now and make money right now. We're trying to do big things. We have the potential to win tag team titles, world titles. It's not about a black and white thing. It's a black and gold thing. Black and green thing. Green and gold thing. It's about the green of money, the gold of success and the hurt we are putting on people.
Shelton Benjamin is getting a chance to demonstrate his abilities thanks to the group. Someone respected by fans and peers, yet hasn't been featured in a meaningful way arguably for a while until now.
A lot of times when you get into the wrestling business you get stuck into the mindset of just wanting to have good matches. You can have a good match with everyone. We can put you Main Event every week and the undercard. That's the one thing MVP and I have been drilling into him: "Shelton, you're 250 pounds and an extreme athlete and one of the greatest wrestlers to step foot in the ring. Kick people's ass. That's the only way to get attention and get noticed and get what you want." If you sit in the back and say, "I'm so good. Why won't they give me my shot?" You don't get that until you align yourself with the right people and start whooping ass. That's when you get what you deserve. And that's what he has been doing. I love Shelton. I think he is amazing. He is right where he needs to be.
WWE has moved programming from its Performance Center to a state-of-the-art setup at the Amway Center known as the "ThunderDome." Has moving to a more traditional arena made a difference in your eyes?
As an athlete, I love the competition. I will fight somewhere anywhere. A lot of the guys need the crowd to bring them up. Same in mixed martial arts. They feed off the crowd. They need to believe in someone else's belief in them. I don't. Neither does MVP or Shelton. We don't give a damn if they like it or hate it. We're about business. Right now, I think it's cool to have the fans in a way they can see we are busting our ass for them. At the same time, whether we have fans or not, I'm going out there to perform and wrestle and do what I love to do.
We're seeing WWE experiment a bit in these unprecedented times. Among the new concepts is Shane McMahon's "Raw Underground" on Monday nights, which has a grittier presentation and "Fight Club" vibe. As someone who is accomplished in the combat sports world, what are your thoughts on how it has been executed?
I like it. I think at the beginning people had their notion about it, but I think it's good. Wrestling is a variety show. That's something that is big right now. Mixed martial arts and fighting is big, so the fact we can put it on our show is amazing. If I did want to tweak anything, I think I would like to see more training. There are gyms everywhere. Go out and get a striking coach. Take a jiu-jitsu class. This way when you get in there, you'll know what to do.
I think we use this to show appreciation to the MMA crowd. We can show we are pro wrestlers, but we can do the same things they can do. I think Aleister [Black] is ready to jump in there. Erik of the Viking Raiders has been doing great. Dolph [Ziggler] has an extensive wrestling background. [Baron] Corbin has hands. I like to see these guys mix it up in a different sense. I just think we can learn a little more about the sport to give an accurate portrayal and know what you're doing out there.
See Also
The former WWE performer explains why he is campaigning #Heath4Impact Tuesday nights on AXS TV.
Speaking of which, have we seen your last MMA fight?
I'm fighting until I can't fight anymore. I just had a conversation with the Bare Knuckle Fighting Championship guy. We discussed going out there and doing a bare knuckle fight. I still have an agreement with Bellator. I always thought I would find my way back to WWE. When I signed my Bellator contract, I had an out clause for the WWE. It said if WWE alone offered me a contract they would relieve me from the Bellator contract. [Bellator MMA President] Scott Coker is an amazing guy. The fact he gave me that contract was just incredible. But since he gave me it, I still have fights with Bellator and can fight with them, which is a really good thing.
There is a lot of speculation about Brock Lesnar now that he is reportedly not under a WWE contract right now. Fans have been clamoring to see you step in the ring with him. Do you still see it happening down the line?
It's the craziest thing with Brock. When I got into wrestling, Brock got out. I got out, and he got back in. I got back in, and he got out. Nobody is ducking anyone. It just so happens to work out that way. Brock has big opportunities and a lot of people he can have big marquee matchups against. He can take on Jon Jones within the MMA world. There is a line there that you have to stand behind. As much as the fans want to see this match happen, I got to take into consideration Brock has to do his business the way he wants to. We neve had that opportunity to get in and have that match. Hopefully, the stars align for both of us. Maybe it will happen when we are 60. I'll tell you every day I post a picture of anything on social media, people will say they want me and Brock. We have to give it to him.
See Also
The 'Archer of Infamy' reflects on winning the gold at 'TakeOver: XXX.'
What you're doing on Raw is a natural fit for you, but I also look at it as a culmination of your evolution. You've grown your in-ring game and onscreen personality. What do you make of this current run?
When I first came back I would get, "Why is Bobby singing on TV?," or, "Why is he with Lana?" It was all so people could get to know me a little bit more. A lot of people hated my work with Lana, but a lot of people watched it. I think Lana and I had the same problem going into things. We knew this was going to be one of these controversial storylines, and a lot of people are going to talk about it. And when they talk about it our stock is going to go up on TV. When they say there is no such thing as bad press, there is a little bit to that.
Right now, everything that I've done since coming back to WWE has led me to what I'm doing right now. I think right now everything is bright for me. I feel good about every aspect of my game. I can be the guy. There are kids growing up now like I was and need someone to look up to. I'm that guy. I can do it all.
WWE Raw, Mondays, 8/7c, USA Network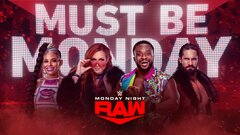 WWE Raw
where to stream
Powered by