Heath Wants to Transition From Free Agent to Top Star in Impact Wrestling
After 14 years working for WWE the man known to fans as Heath Slater found himself a free agent amid a pandemic. It was a sobering reality that didn't deter him from wanting to continue his career elsewhere. In fact the 37-year-old, who goes simply by Heath now, was even more determined to show what his former employer might have missed. And so the search for the right place led him to Impact Wrestling, showing up at Slammiversary in July days after his last appearance on Raw.
"I just wanted to find the love of wrestling again," Heath said. "Perform and show what I can do. I wanted to make a big splash in the water and have a good time doing it. I just love the fact Impact will sit down and listen to you and your ideas. They will talk with you and be straight with you. That's what I've been getting from Impact. They don't beat around the bush. I like the honesty there. I feel like if we keep that good line of communication, everything will work out well. The talent pool is great. Everyone feels part of the team. That's how it should be."
Ever since the #Heath4Impact campaign has been in full swing as an evolving story. A series of entertaining videos encouraging management to give him a contract. We caught up with the star to talk about his promotional push and why choosing Impact was the right decision.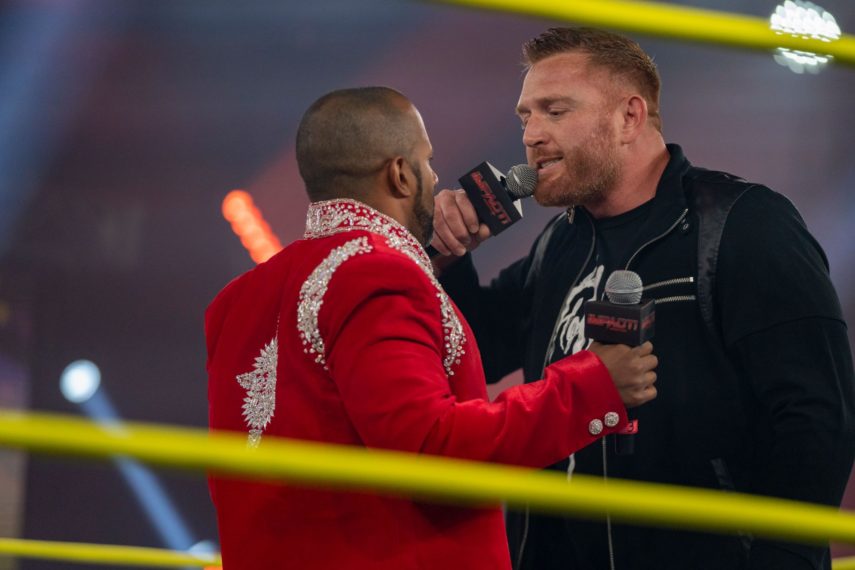 You were among many WWE releases on April 15. Did you feel an added connection with your former colleagues going through this together?
Heath: I'm friends with a lot of people up there. I've had a lot of good friends. I've always been that guy who treated the other guy the way you wanted to be treated. I feel like that whole group of guys that went to Impact, I've known them forever. We've all been together for so long. When opportunity came, we looked around and saw the availability for Impact. We thought, "Let's go there and have a good time and see what we could do." I can tell Impact is a great place to be. A good work environment. The lines of communication are there, so you actually know what you're doing week-to-week.
Your last WWE appearance was on Raw where you cut a passionate promo sharing the ring with Drew McIntyre. Did you view that time as a way to demonstrate out the door the company was making a mistake letting you go?
That's exactly what that was. McIntyre called me a month or so in advance. I told him I wasn't going back, and I didn't want it. Then literally two weeks before Slammiversary he pleaded with me to let him pitch working together. He was sure they would go for it. Then when he called me back and said they went for it I was like, what?! It was one of those things where Drew is one of my best friends inside and outside the ring.
We just clicked 12 years ago when we met. I'm in the ring with him and Dolph [Ziggler], who is a friend too. I thought to myself, "I'm going to hit a home run and speak from the heart and let you know how I feel." Thankfully, it was one take and came off great. I wanted to prove to them that I could have been doing this the whole damn time if you gave me the opportunity. Now you give me the opportunity to come back one day to show what I can do, I'm going to spread my wings and fly to other companies and give them my talent.
And now you have this #Heath4Impact campaign going on, which is perfect for the political season.
It's a lot of fun. I feel like it's something where if I was running for president, this is how I would do it. Of course, I probably wouldn't get that many votes, but this is wrestling so it's kind of different. If you want to put your input in, they are for it. To me, it's a blessing to that. They let you do what you think would be best and run with it. They'll offer their tweaks, too. It's a fun environment to be around. It's not as stressful. You know when you have a job and want to love it forever and have fun with it? Impact is like that.
You reunited Rhino on your first night. What has it been like to reconnect with him?
It's always good to see Rhino. He was one of the reasons I went to Impact. He is a good guy. Hopefully, he and I can get together again and become tag champs. We'll see what happens.
Eric Young, who also got released by WWE, just won the Impact championship. Does seeing him thrive further confirm you made the right decision to join Impact?
Totally. EY was an Impact original back in the day when I was watching. He is so talented and such a nice dude out of the ring. Then when he is in the ring, it's a different character. I don't even know that guy, bleeding every night and talking to himself. Crazy. I love to see him getting that title again. He will make one hell of a champ.
Have you heard from friends in WWE that have watched what you're doing and might want to explore other opportunities as a result of your glowing review?
They know when they are locked down under contract, they can't get out. That's the bottom line. You may have well signed yourself up for the military. But guys that did get released and guys from other companies have been texting and calling and asking about Impact. The WWE crew, some of them have been like, "Man, that would be awesome to do this, But I still got a year-and-a-half or another year." I'm like, "Remember what you're saying because years go by pretty fast. So if you really want to, I might know a guy." The interest is there for sure.
Is there any free agent that you think would mesh well in the Impact?
I would like to see Joe Hennig over here. Mr. Perfect's son. I would like to see him come over to Impact. I've talked to him, but he is doing his thing right now and enjoying life. I don't blame him. Do you buddy. He is one of my best friends and a hell of a worker.
What has the transition been like going from go,go,go for 14 years to being able to spend more time with your family?
That's a damn good question to be honest. My youngest girl Remmy. When she was born, even with my oldest, I was gone consistently. I missed birthdays, dance recitals, Christmas, Halloween, so much. I still didn't get that one hundred percent connection with my girls either because dad was the fun one. I would come home and it was play, play play. Toys, toys, toys. I was a big brother playing with them and love them dearly. Even before the pandemic and in WWE, that last two years where I wasn't doing nothing. I was just sitting on my butt pitching ideas and nothing happening.
My youngest was always a mama's girl, but now she has been hanging around dad more. I feel like time and quality time is what I really missed out of. Now I'm getting so much of it, and we're bonding so much more. It makes me almost cry thinking that I missed out on all this. What really mattered. It's because I was gone and thinking that I needed this job. I needed this money. This was all I wanted to do. I should be happy and grateful. But then again I'm going insane. You try your best to catch up and give them every second of the day, but it's still not enough. Not enough hours in the day for the times I missed. Now picking my own schedule. Even with Impact's schedule, it's one of the best schedules ever. You fly out, tape TV. You're there four or five days and then back home. You can't beat it. And you get good exposure.
Was there one idea you really thought would be effective that WWE never used?
It was when I was not drafted on Raw or SmackDown. It was supposed to be a joke. That type of thing. Make Heath the butt of the joke. Then JBL [John "Bradshaw" Layfield]came to me saying I wasn't getting drafted. The whole day I was thinking if I'm not going to get drafted. I go to pitch Ed [Koskey] of [WWE creative] to make me a free agent and pop up on each show. Let me fight for my spot. He looked at me saying, "We were just going to put you on SmackDown." I fought for my idea.
Next thing you know I was on Raw, SmackDown, Main Event, pay-per-view. Booked more than I have ever been booked working this free agent thing. My whole plan was to go for the Intercontinental title. Let's say I keep trying and proving myself to where Shane [McMahon] and Stpehanie [McMahon] both want me for their show. I would end up not signed anywhere and win the title. I even pitched to go do EVOLVE and outside promotions WWE trusts to make people think this free agent thing was real. They went with the watered down version of it. But I did get one of my best friends in Rhino out of that and won the tag titles with him. I wouldn't change that for nothing though. It was a childhood dream to be IC champion. Though if I had to pick I'd rather have Rhino as my best friend. I hope I can get this #Heath4Impact going and have a run with him in Impact.
Impact Wrestling, Tuesdays, 8/7c, AXS TV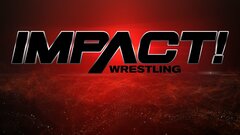 Powered by