'Star Wars Rebels' Sets Season 3 Premiere Date, Adds New Characters
The Rebels are returning. Disney XD's animated series Star Wars Rebels is set to begin its third season on Saturday, Sept. 23 with a special one-hour premiere titled "Step Into Shadow" (8:30/7:30c). The show is moving to Saturdays from its previous Wednesday-night home.
Set between the time period of George Lucas' first two movie trilogies, Rebels helps set the stage for the events of the very first film, 1977's A New Hope (aka Episode IV). The show features an all-new cast of freedom fighters battling the Empire, but has not been shy about including iconic characters from the franchise, including Darth Vader, Princess Leia, R2-D2, C-3PO, Darth Maul and Yoda.
RELATED: Rebels Expands That Galaxy Far, Far Away
Here's how Disney XD summarizes the new season:
Having established a secret base on Atollon, the Ghost crew, now led by a more powerful Ezra, strengthens the rebel fleet by acquiring new resources and recruits eager to stand against the Empire. However, the Imperial efforts to eliminate the rebellion are now being led by the coldly analytical Grand Admiral Thrawn, whose strategic, tactical and cultural insights make him a threat unlike any they have faced before. In Season 3, Ezra and Sabine take on new roles and challenges as the rebels prepare for their biggest mission yet—a direct assault on the Empire.
RELATED: ABC Hasn't Given Up on a Live-Action Star Wars Series
New characters this season include Bendu, a mysterious Force-wielder (neither Jedi nor Sith) voiced by Tom Baker (aka Doctor Who's Fourth Doctor) and Grand Admiral Thrawn, an ominous Imperial officer first introduced in the Star Wars Legends expanded universe of books. Lars Mikkelsen (House of Cards) will voice the character in his animated debut.
Check out the new teaser trailer: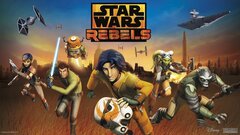 Powered by