Jesse Metcalfe on Showing His Musical Side in Hallmark's 'Chesapeake Shores'
Hallmark's new series Chesapeake Shores will feature a side of actor Jesse Metcalfe rarely seen. The 37-year-old—famous for his sexy gardener on Desperate Housewives—has been a songwriter for more than a decade, something he hasn't been able to showcase in any of the films and TV shows he's worked on. But Metcalfe's music plays a significant part in Shores; the debut episode alone features two original tunes.
Originally planned as the first of a series of TV movies, the two-hour premiere focuses on successful businesswoman and recent divorcée Abby O'Brien (Meghan Ory, above, with Metcalfe) who returns to her quaint hometown to raise her twin daughters and reconnect with her father (Treat Williams) and grandmother (Diane Ladd). Metcalfe plays Trace Riley, a musician who has also returned to Chesapeake Shores—and happens to be Abby's high school sweetheart.
RELATED: First Look: Meghan Ory and Jesse Metcalfe in Chesapeake Shores (VIDEO)
"First loves, they don't die easily," Metcalfe says of the romance that inevitably rekindles between Trace and Abby. "I think they're both trying to rediscover themselves and what makes them happy. But, as we get older, we tend to pick up baggage along the way." While the premiere won't touch on why Trace has returned home, Metcalfe reveals that his character is harboring a secret. "He's certainly not being honest with Abby—or anybody else he's interacting with back in his hometown."
Chesapeake Shores, based on a series of books by Sherryl Woods, will deviate from the novels in ways that are a bit of a departure for the wholesome Hallmark Channel, Metcalfe says: "It's a lot more layered and complicated, and it's a lot more grounded. It's real. We hope to move people." Still, he adds, the family drama's message remains hopeful: "The show is about healing old wounds and finding ourselves again."
Chesapeake Shores, Series Premiere, Sunday, August 14, 9/8c, Hallmark Channel.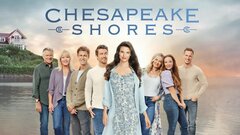 Powered by