First Look: Meghan Ory and Jesse Metcalfe in 'Chesapeake Shores' (VIDEO)
Red Riding Hood and a Desperate gardener are coming to Hallmark Channel.
Meghan Ory (Once Upon a Time) and Jesse Metcalfe (Desperate Housewives) star in Chesapeake Shores as Abby O'Brien Winters and Trace Riley, high school sweethearts who have drifted apart but who find themselves unexpectedly reconnecting.
A career-driven woman and divorced mom of twin girls, Abby finds herself needing a break from her life in New York City. To reevaluate her life, she heads home to Chesapeake Bay, where she finds herself facing not only Trace but her stern dad Mick (Treat Williams, Chicago Fire) and grandmother Nell (Diane Ladd). Naturally, the multigenerational family must find a way to reunite and reconcile their differences.
The new series is also based on the popular New York Times bestselling books by Sherryl Woods.
Watch an exclusive video of Ory and Metcalfe talking about their characters, and then take a look at exclusive series photos below.
Chesapeake Shores premieres this summer on Hallmark Channel.
---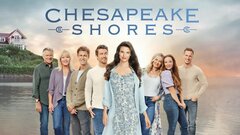 Powered by