6 Things We're Most Excited To See At Comic-Con 2016
It's time for the annual San Diego International Comic-Con, when all of your favorite comic book, movie, and TV stars come together to talk about what's new in science fiction—and cover everything from Star Trek to Teen Wolf. With so much going on, it's hard to know where to look. We narrowed it down to the six things we're most excited to see at this year's Con. All panel times are Pacific.
RELATED: TV Guide Magazine Reveals 2016 Comic-Con Fan Favorites Panelists

Getting Answers About the Upcoming Star Trek Reboot
Star Trek is coming back for a 2017 TV series, and we can't wait to see executive producers Trevor Roth and Eugene Roddenberry (Yes, son of legendary Gene Roddenberry) answer Q&A's about what's new in the Trek Universe. Plus, exclusive material from the Roddenberry Vault will also be released. Of course, all of this is in honor of Star Trek's 50th birthday. Finally, Trek veterans William Shatner and Jeri Ryan are set to appear.
Star Trek: 50th Year Celebration with Roddenberry Entertainment, Thursday, July 21, 1:30-2:30, Room 24ABC
Star Trek: 50th Anniversary Panel, Saturday, July 23, 2:00-3:00, Hall
RELATED: CBS' Star Trek Reboot Recruits Gene Roddenberry's Son and Trevor Roth
Marvel's Luke Cage's First Cast Appearance
Remember Luke Cage from the first season of Netflix's wildly successful Jessica Jones? He's back in his own series. The cast of Netflix's upcoming Marvel's Luke Cage takes the stage together for the first time, and present exclusive footage from the show.
Marvel's Luke Cage, Thursday, July 21, 5:45-6:45, Ballroom 20
RELATED: First Look: Marvel's Luke Cage Comic-Con Poster
Watching Always Sunny's Mac Moderate A Game of Thrones Panel
We're not sure if the Game of Thrones cast will have anything new to reveal after last season's tumultuous finale, but when we found out Rob McElhenney of It's Always Sunny in Philadelphia was moderating, it became a must-see event. Watching Mac take on Ramsay Bolton (Iwan Rheon) is the Q&A we never knew we needed. Set to attend are John Bradley, Liam Cunningham, Nathalie Emmanuel, Conleth Hill, Faye Marsay, Hannah Murray, Kristian Nairn, Sophie Turner, Isaac Hempstread Wright, and Rheon himself. Hold the door for this one.
Game of Thrones Panel and Q&A Session, Friday, July 22, 2:15-3:15, Hall H

RELATED: Game of Thrones Behind the Scenes: See How Season 6 Came Together
Watching Never-Before-Seen Bob's Burgers Footage With the Cast
There's only one thing better than the Bob's Burgers cast getting together, and that's when they get together to reveal new footage. H. Jon Benjamin (Bob), Dan Mintz (Tina), Eugene Mirman (Gene), John Roberts (Linda), Kristen Schaal (Louise), and Larry Murphy (Teddy!) are all set to attend what promises to be a hilarious panel.
Bob's Burgers, Friday July 22, 4:00-5:00, Indigo Ballroom, Hilton San Diego Bayfront
RELATED: QUIZ: Which Bob's Burgers Character Are You?
The All That Cast Reunites
Milennial nostalgia will be in full force when the All That cast reunites on stage. Josh Server, Danny Tamberelli, Lori Beth Denberg, and Kel Mitchell are set to attend, as are Legends of the Hidden Temple cast members Kirk Fogg and Dee Bradley Baker, who will give a first look at the upcoming Legends film. Cue the catchy All That theme music!
Back to the 90s: Nickelodeon's All That Reunion and Legends of the Hidden Temple, Saturday, July 23, 11:15-12:15, Room 6A
RELATED: Nickelodeon Mulls Reviving Classic Shows like Rugrats
Sneak Peaks At The New Prison Break and 24 Series
Prison Break is coming back to Fox, and the cast will give a sneak peak at new footage. Wentworth Miller, Dominic Purcell, Sarah Wayne Callies, and Robert Knepper will give a first look alongside producers Vaun Wilmott and Michael Horowitz. Plus, 24:Legacy stars Miranda Otto, Jimmy Smits, and Corey Hawkins join the creator and producers of the original 24, Howard Gordon, Manny Coto, and Evan Katz, for a special fan presentation.
Fox's Action Showcase: Prison Break and 24: Legacy, Sunday, July 24, 12:30-1:30, Hall H
RELATED: Fox Orders 24: Legacy And Star For Fall 2016
Keep reading TV Insider for updates and panel reports from SDCC!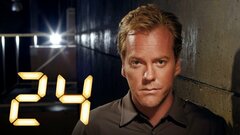 24
where to stream