Zendaya Takes on 5 Identities on 'K.C. Undercover'
Step right up! On a special one-hour episode of Disney Channel's spy comedy K.C. Undercover, titular hero K.C. Cooper (Zendaya) and her family of secret agents go undercover at the Cecil B. Deville Traveling Circus to catch an elusive art thief who K.C. believes is hiding under the big top.
RELATED: Jasmine Guy Guest Stars As K.C. Undercover Prepares For A Different World (VIDEO)
Zendaya dons a record five incognito costumes for the installment: At different points in the episode she pretends to be an artist, a little girl, a prison guard and a tightrope walker. "There were no rules," the 19-year-old multihyphenate says. "We were creating characters and ideas on the fly. In every turn I was like, "Who's next?'"
RELATED: Raven-Symoné Panics During a Mission Impossible on K.C. Undercover (VIDEO)
She also plays an entirely different character from K.C.—the "very eccentric" Judge Dudley Theopolis (above), an older man with white hair, a full beard and a Zeus-like nose—with the help of some heavy makeup. "We use prosthetics all the time on the show, but this was one of my favorites, because it was so realistic," she says. "I'm completely unrecognizable."
See all of Zendaya's undercover characters below!
K.C. Undercover, Sunday, August 7, 8/7c, Disney Channel.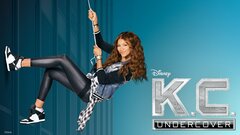 Powered by