What's Worth Watching: 'The Late Show with Stephen Colbert', 'Open Your Eyes', 'UnReal' and more for Monday, July 18.
The Late Show With Stephen Colbert (11:35/10:35c, CBS): Seeking to rebrand and re-establish itself with a timely urgency during the Republican and Democratic Conventions, a week after being snubbed in the Emmy nominations, The Late Show goes live every night through Thursday this and next week. The GOP gathering is being dubbed "The 2016 Trumpublican Donational Coventrump Starring Donald Trump as the Republican Party (May Contain Traces of Republican)". Don't be surprised if Colbert's former Comedy Central cohort Jon Stewart makes an appearance along the way. Official first-night guests include Star Trek: Beyond's Zoe Saldana, Absolutely Fabulous diva Jennifer Saunders and, for some political substance, journalist Ron Suskind. (Other shows will go live on a more limited basis later in the week, with special editions of HBO's Real Time With Bill Maher Wednesday and Thursday, and The Daily Show With Trevor Noah and Late Night With Seth Meyers going live on Thursday.)
Open Your Eyes (9/8c, HBO): We could all use a little uplift these days, and this disarmingly unfussy yet profoundly affecting documentary satisfies on that count. Over a brisk 30-odd minutes, director Irene Taylor Brodsky introduces us to an elderly couple, Manisara and Durga, who live in a remote village in the mountains of Nepal and have been blind with cataracts for years. Desiring to see her beloved grandchild for the first time, Manisara and her husband embark on a three-day journey to a clinic that provides free eye surgeries once a month. For the doctors, this is a routine procedure. For the nervous patients, it's anything but.
UnReal (10/9c, Lifetime): See why Constance Zimmer is an Emmy nominee for this dark behind-the-scenes look at reality TV, as her ruthless character Quinn sets her manipulative sights on the burgeoning relationship of fellow producer Rachel (Shiri Appleby) and show-runner Coleman (Michael Rady).
Inside Monday TV: Unsettling homecomings await Callie (Maia Mitchell) on Freeform's The Fosters (8/7c), as she visits several of her former foster homes to photograph them for a senior school project. … Christopher Gorham (Covert Affairs) guests on TNT's Major Crimes (10/9c), and Meredith Vieira plays a child psychologist on Bravo's Odd Mom Out (10/9c).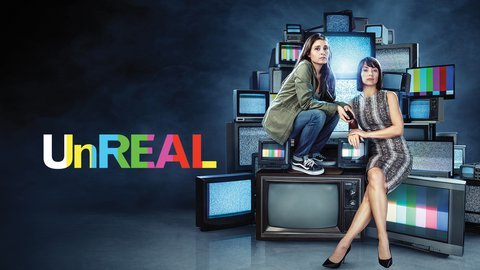 UnREAL
where to stream
Powered by