'MADtv' Is Making a Comeback—Get to Know the New Cast (VIDEO)
Has there been a mad-huge hole in your heart since sketch comedy series MADtv ended in 2009? Well, cheer up, it's returning this summer with a whole new, talented cast.
Last week, The CW announced that starting on Tuesday, July 26, the Emmy-award winning series will be back for more sketches, more parodies, and more laughs. It boasts eight new stars, plus cast members of the original series returning to reprise their funniest roles.
As a public service, we decided to scour the web for videos from the new cast members to show you what each of them will bring to MADtv. The best of their online work is below:
Carlie Craig
Remember that spot-on parody of Ariana Grande that was all over your Facebook feed a few months ago, where you couldn't understand a word she was saying? That was Carlie, who does a ton of celebrity impersonations. She has appeared on Todrick as well as First Impressions with Dana Carvey. Watch her take on Ariana and other celebrities in this video.
Chelsea Davison
We all know a crazy cat lady who is the butt of all of our jokes—so does Chelsea Davison, with hilarious results. The stand-up comedian brings her cat jokes to stage in this clip, but she's also appeared on @Midnight and in Amy Poehler's These Girls.
Jeremy D. Howard
Jeremy D. Howard has invented crazy characters in his comedy, from a seductive car-wash attendant named Sunbrella, to Kanye West's inspiration, Zenius. You can catch up with all of his personalities in this comedy reel.
Amir K.
Amir K. is a stand-up comedian that you might recognize from Last Comic Standing or Jerks with Cameras. He's taken on topics from traffic court (yes, traffic court) to terrorism. Here he is performing stand up at The Laugh Factory.
Lyric Lewis
Ever watch How to Get Away with Murder and fall off of your chair laughing? No? Well you will after watching Lyric Lewis as Viola Davis at the 2015 CBS Diversity Showcase. Lewis, who has appeared in Drunk History and Brooklyn Nine-Nine, does celebrity impersonations, which we'll see more of on MADtv.
RELATED: Looking Back: The 5 Funniest MADtv Characters
Piotr Michael
Piotr, of The Howard Stern Show, has lent his voice to shows including Conan and video games including Call of Duty, but he also pulls off a hilarious Christopher Walken. Watch Piotr answer questions from viewers in this reel off all of his best celebrity impersonations.
Michelle Ortiz
Can any other MADtv star say that they studied classical opera in Germany? Michelle can. She also trained at the Moscow Art Theater school in Russia, and participated in Diversity Showcases at both CBS and ABC, plus has appeared on Marvel's Agents of S.H.I.E.L.D. and Life in Pieces—and watch her impression of Bob's Burgers' Tina Belcher impersonation in this reel.
Adam Ray
What comedian has appeared in The Heat, Spy and the upcoming Ghostbusters? Okay, besides Melissa McCarthy? It's TBS's Separation Anxiety co-host Adam Ray, who also hosts the podcast About Last Night. He's primarily a stand-up, which he performs in this clip from The Late Late Show with Craig Ferguson.
MADtv, Season Premiere, Tuesday, July 26, 10/9c, The CW.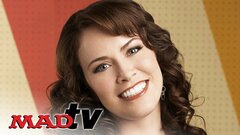 MADtv
where to stream
Powered by