'MADtv' Comes Back With a New Cast and New Network But the Same Point of View
Seven years after its original run ended and gave the world Jordan Peele, Ike Barinholtz and Alex Borstein, among others, the sketch comedy show returns with an all-new cast, new timeslot and a new home on The CW.
But according to executive producer David E. Salzman, who is back for the reboot, the irreverence is here to stay. "The targets for skewering may have shifted and multiplied," he says, "but the MADtv POV is largely intact."
RELATED: MADtv Is Making a Comeback—Get to Know the New Cast (VIDEO)
The show's move from late night to primetime on the younger-skewing CW means some changes. Salzman teases an eye toward parodying tabloid culture and presidential politics.
The new series will also feature weekly guest appearances by stars of MADtv's initial 14-season run, who'll reprise fan-favorite characters. "Back in '95, we vowed to be equal opportunity offenders," Salzman says. "Everything is still fair game."
MADtv, Season Premiere, Tuesday, July 26, 9/8c, The CW.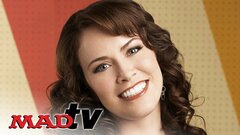 MADtv
where to stream
Powered by