'Mistresses': Kate Looks For a Date, While Karen and Her Manny Get Closer (VIDEO)
It may just look like a "Saturday morning man hunt" in this exclusive clip from Monday's episode of the ABC summer series Mistresses, but nothing is that simple with this group of friends.
RELATED: Mistresses: Yunjin Kim Dishes on ABC&;s Soapy Summer Series' New Season
Kate (Tabrett Bethell) has just broken up with her fiance and her L.A. buddies are encouraging her to "get back out there" by swiping right on her dating app. Kate, on the other hand, would rather just swipe left on just about all of them. Then they come across a picture of Robert (Jerry O'Connell), who is Karen's (Yunjin Kim)'s "manny." Then Karen reveals some news that makes her girlfriends wonder if she's doing the right thing.
Watch the exclusive clip below:
Mistresses, Mondays, 10/9c, ABC.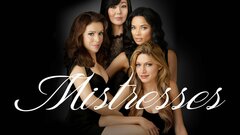 Powered by