David Schwimmer Takes On James Corden in the Rap Battle You Never Knew You Needed (VIDEO)
Remember when Ross rapped "Baby Got Back" to his daughter in Friends? Well, there's more where that came from.
David Schwimmer appeared on The Late Late Show to take on James Corden in a "Drop the Mic" rap battle and prove he still has his skills. Schwimmer threw insults at Corden about his British heritage, but Corden threw it right back at Schwimmer with some Friends-inspired insults— and managed to throw in an American Crime Story: the People v. O.J. Simpson Bronco dig.
RELATED: How David Schwimmer Became the Most Sympathetic O.J. Lawyer on TV
Still, Schwimmer seemed to win the battle, especially when he brought up Friends's Ross Geller's monkey Marcel, a fan favorite from the earlier seasons, saying, "I worked with a monkey had more skills than you."
RELATED: What James Corden Can Teach Stephen Colbert About Going Viral
But when Rebel Wilson suddenly appeared for the last round, all bets were off, as she destroyed both contestants. First, she took a shot at Schwimmer when she said, "David, your career, it's a huge mistake, it's like Ross and Rachel, it's on a break." Then, she took on Corden, saying, "Carpool Karaoke, you think it's your big thing, but everyone is thinking, 'Shut up and let Adele sing!'"
The verdict? Shut up and let Rebel rap!
The Late Late Show with James Corden, Weeknights, 12:35/11:35c, CBS.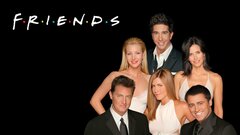 Friends
where to stream