How David Schwimmer Became the Most Sympathetic O.J. Lawyer on TV
Twenty-one years ago, millions of Americans stayed glued to their televisions for the ongoing drama of the People v. O.J. Simpson, in which the formerly beloved football player was tried for (and ultimately acquitted of) murdering his ex-wife, Nicole Brown Simpson, and her friend Ronald Goldman. The trial aired live on every major network, on and off, for nearly 10 months. Now, it's back in the star-studded FX miniseries The People v. O.J. Simpson: American Crime Story; again, Americans are engrossed—5.1 million people tuned in to the February 2 premiere, starring Cuba Gooding Jr. as Simpson, John Travolta as attorney Robert Shapiro, Sarah Paulson as prosecutor Marcia Clark, Courtney B. Vance as defense lawyer Johnnie Cochran and David Schwimmer as Simpson confidante Robert Kardashian.
RELATED: A Who's Who Guide to The People v. O.J. Simpson Legal Team
Schwimmer never met Kardashian (father of Kim, Khloe, et al.), who died of esophageal cancer at age 59 in September 2003. But the two men rose to fame simultaneously in the fall of 1994, Schwimmer for his role on Friends and Kardashian for sticking by Simpson. In the series' source material, The People v. O.J. Simpson: The Run of His Life, a book by journalist Jeffrey Toobin, Kardashian is depicted as a sycophantic dupe. But in the show, he's a sympathetic, stalwart friend who wants to believe Simpson even as the proof against him mounts. (In 1996, Kardashian told Barbara Walters that the blood evidence did make him, at times, question his friend's innocence.)
Not that the series takes sides. "No show is ever unbiased," says executive producer Brad Simpson. "But we tried to be fair to the people involved. We want everyone to understand what it was like for our characters to be at the center of American history."
Here, Schwimmer talks about playing the dedicated friend, reaching out to Kardashian's ex-wife Kris Jenner and becoming a celebrity during the Trial of the Century.
Robert turns out to be the story's most relatable player. Did you expect that?
When the creators pitched Robert to me, they called him the conscience of the show. They pointed out that he was the only person who had absolutely nothing to gain. There was hubris and politics involved on both sides of the case, prosecution and defense, but he was the one person who was just there for someone else because he thought it was the right thing to do. That moved me.
How much did you know about him before you started working on the miniseries?
Nothing. Robert remained fairly private throughout the trial. I remember watching it and thinking, "Who's this white guy sticking by O.J.?" I had no idea how deep their friendship was. The other piece of the puzzle for me was that he was a man of great faith, which drove his decisions. He put his faith in the hands of God and thought that his purpose was just to be there for his friend. In the episodes coming up, that faith starts to crack. Robert questions O.J., their friendship and his own relationship with God. It's a really devastating journey for him.
RELATED: Scoop About the Next Four People v. O.J. Simpson Episodes
Did you contact Robert's ex-wife Kris Jenner?
We talked on the phone. I asked Kris to tell me who he was as a father and husband. She said he was patient and lived for spending time with his family. He would surprise her with notes and gifts. He was very affectionate and warm.
Do you think that this miniseries has a message to convey about fame?
Not about fame in particular; I think the show is trying to contextualize the trial and the fact that it was televised and how much the media was used with great skill by the defense team. It also reminds us of the birth of tabloid journalism.
What was it like to become a TV star during the time of the O.J. trial?
It was hugely exciting. It was a thrilling time. I was 27 years old, so I had a good sense of who I was and was pretty grounded. But I was also highly aware of the tensions in L.A. It was, honestly, a period of great distrust and police brutality. It was a sobering time. It was strange to be suddenly having the break of a lifetime, which was so exhilarating, but to know that I was living something very different from reality.
RELATED: Cuba Gooding Jr. Says O.J. Simpson Is His Hardest Role Ever
The People v. O.J. Simpson, Tuesdays, 10/9c, FX
Powered by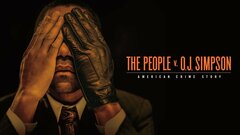 Powered by